A nameplate first introduced in 1978, the Mitsubishi Mirage has one of the most interesting chapters in the history of affordable cars. It has been known and loved far and wide but by different names and 'faces'. Although there is a sedan (G4) variant available as well, the 2024 Mitsubishi Mirage is one of the rare subcompact hatchbacks still on the U.S. market, and truth be told, it does give all the economy models that offer great fuel efficiency—a proper run for their money.
As far as affordable and budget-friendly cars are concerned, the new 2024 Mirage meets all the criteria for it to be a certified steal. Mitsubishi has also introduced a few changes in the 2024 Mirage, with new colors and several new features, alongside a newly introduced warranty; both on the powertrain and bumper-to-bumper.
With all of the above in mind, it would be safe to say that for the budget-conscious shopper, the 2024 Mitsubishi Mirage might be a small car, but it is big on value. So for those looking for a new car that is dependable and gets the job done, the 2024 Mirage is here; and for under $20,000, it is well within your reach, too.
We've looked up information and data from the official automaker press release, as well as trusted sites like Car and Driver, to put this list together on the Mitsubishi Mirage.
Related: The Most Fuel-Efficient Gas-Powered Hatchback On Sale Today
10
The 2024 Mitsubishi Mirage Offers Class-Leading Gas Mileage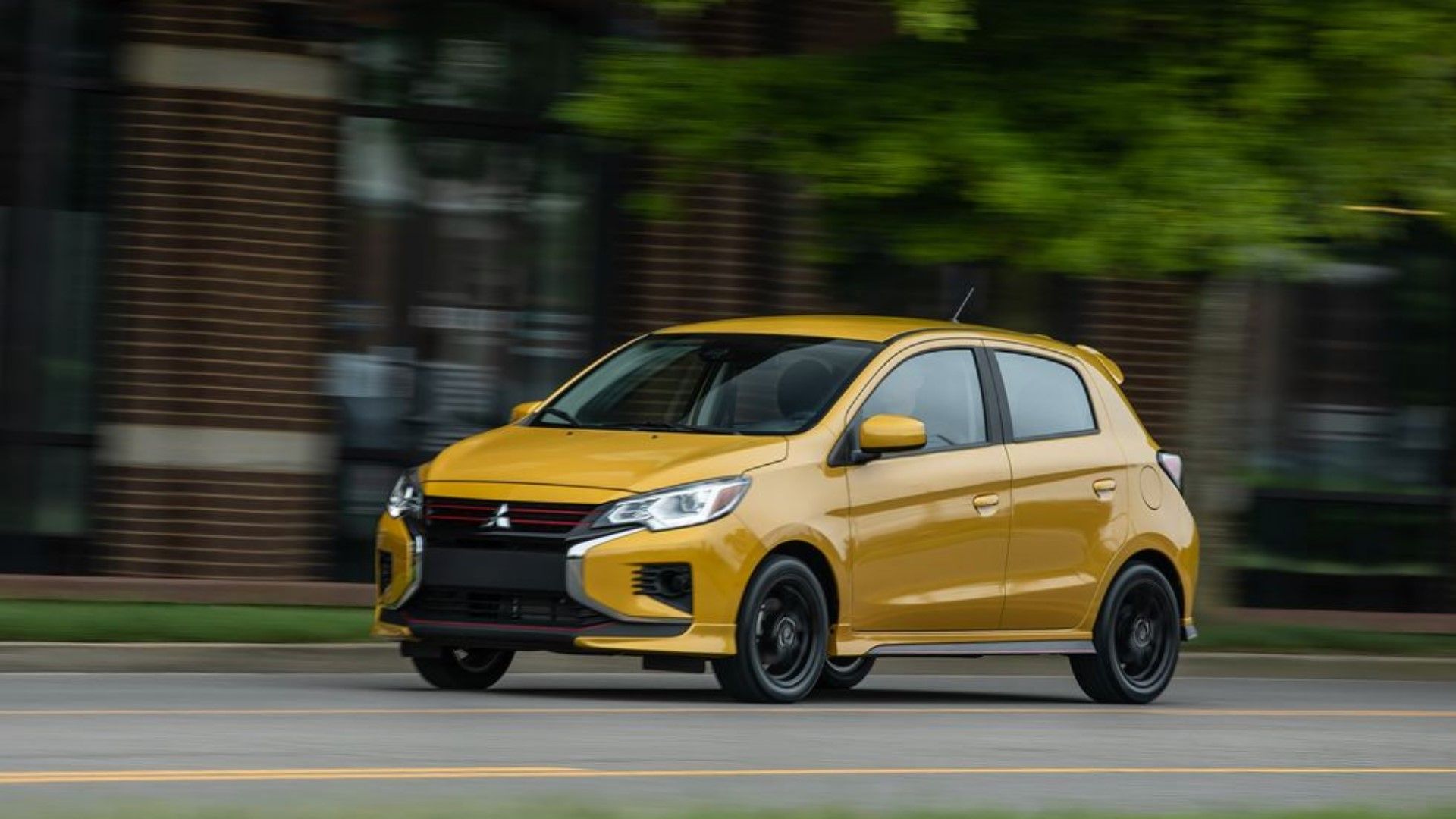 The whole idea behind going for a new car that is light across multiple aspects—price, weight, and fuel consumption, is to ensure that it continues to remain light on the pocket as well. The 2024 Mitsubishi Mirage doesn't just promise to be featherweight across all those fronts but also is consequentially light on the pocket.
With a solid EPA estimated 36 MPG in the city, 43 MPG on the highway, and anEPA-rated 39 MPG combined, the new Mitsubishi Mirage could just be the epitome of fuel economy. When combined with the fact that the 2024 Mitsubishi Mirage price starts at under $17,000, it makes the car unbelievably light on your pocket. Fuel efficiency of that kind also means a lighter carbon footprint, which is an absolute win-win.
9
Bang For The Buck Performance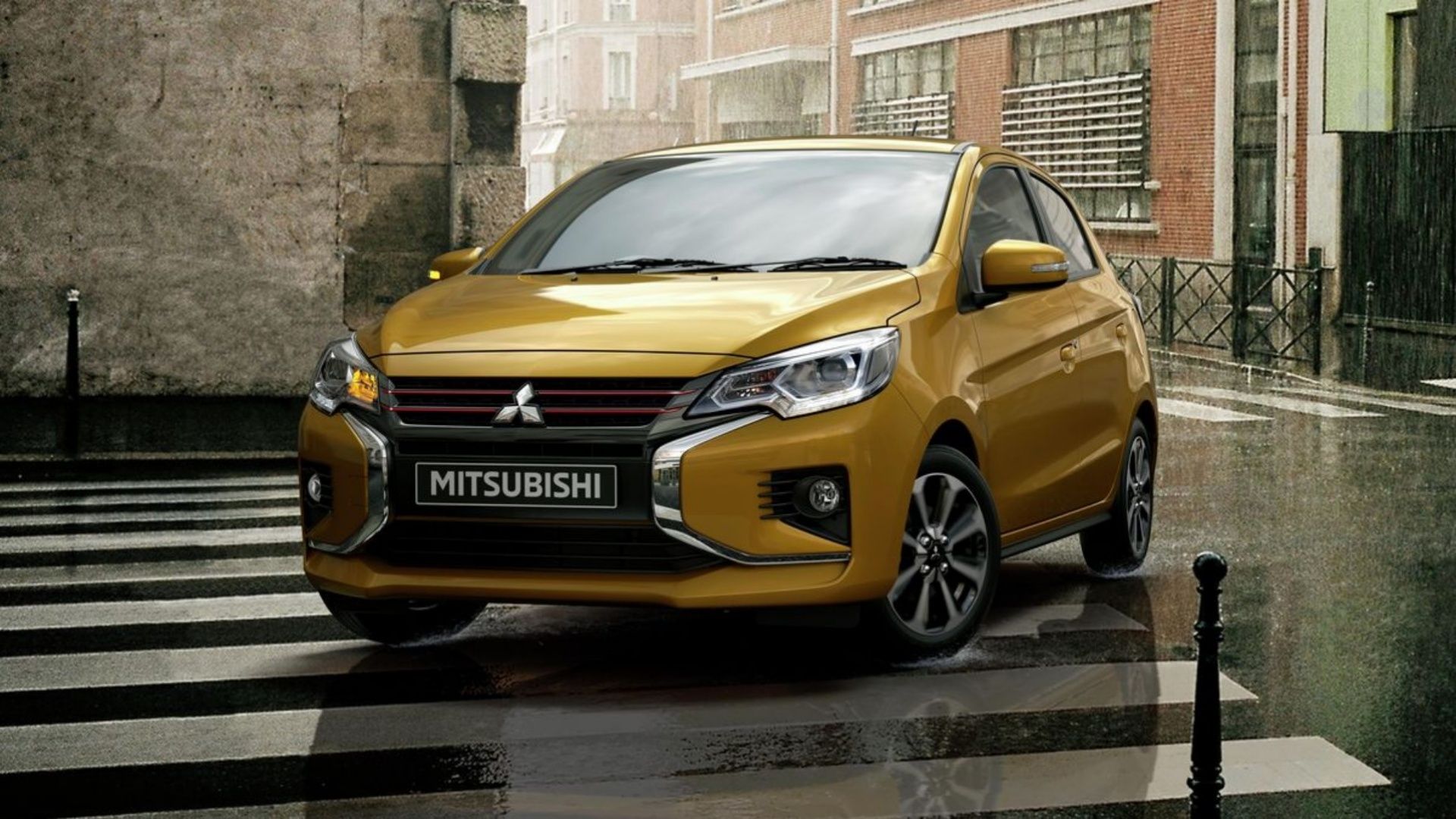 Under the hood, the 2024 Mitsubishi Mirage comes with a naturally aspirated 1.2-liter inline-triple engine, putting out 76 Horsepower at 6000 RPM and 74 pound-feet of torque at 4000 RPM which is to say that the new Mirage's specs haven't particularly improved from its 2023 predecessor, since the engine still often struggles with the 2,100-pound car. The standard CVT (continuously variable transmission) keeps the RPM rather high to make the engine feel powerful but instead makes the engine noisier than you'd want.
The 2024 Mitsubishi Mirage does 0-60 MPH as tested by Car and Driver, in a decent 10.6secondsdbut hey, that's pretty darn good for an economy subcompact hatchback.
0-60 MPH: Mitsubishi Mirage Vs. Competition
| | |
| --- | --- |
| Subcompact Car | 0-60MPH (seconds) |
| 2023 Kia Rio | 8.6s |
| 2024 Nissan Versa | 9.5s |
| 2024 Mitsubishi Mirage | 10.6s |
(Source: Car And Driver)
Keeping in mind the pocket-friendliness of the car, it is safe to say that performance-wise, the new Mirage is pretty en pointe. Though it could do with a better, more powerful engine.
8
The New Mirage Packs Comfort And Convenience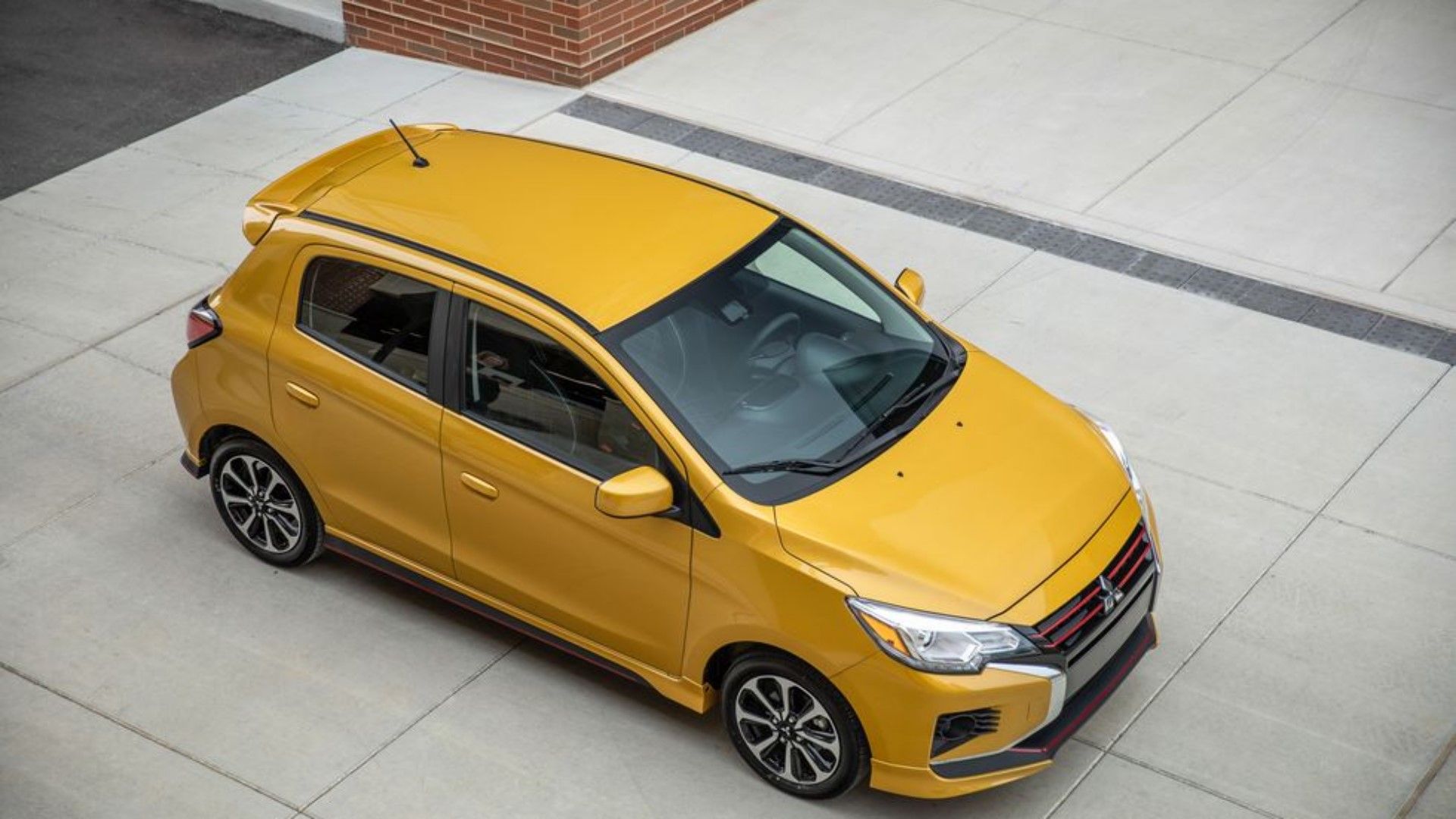 While the 2024 Mitsubishi Mirage does not have an upgraded engine compared to the 2023 model, it does have a few technological upgrades to make the driver's life easier. The new Mirage comes with rain-sensing windshield wipers and an automatic high-beam assist, which are both features that have been newly introduced.
Besides these two, the 2024 Mirage also comes with a driver's side armrest, which was absent in the outgoing model. The Mirage also comes equipped with a rearview camera system and active stability control. To make the driving experience seamless and fun, it also comes with Android Auto and Apple CarPlay, Bluetooth connectivity, and a standard audio system with four speakers.
Related: One Of The Cheapest Cars On Sale In The U.S. Could Be Getting Axed
7
The 2024 Mirage Boasts Of Two New Variants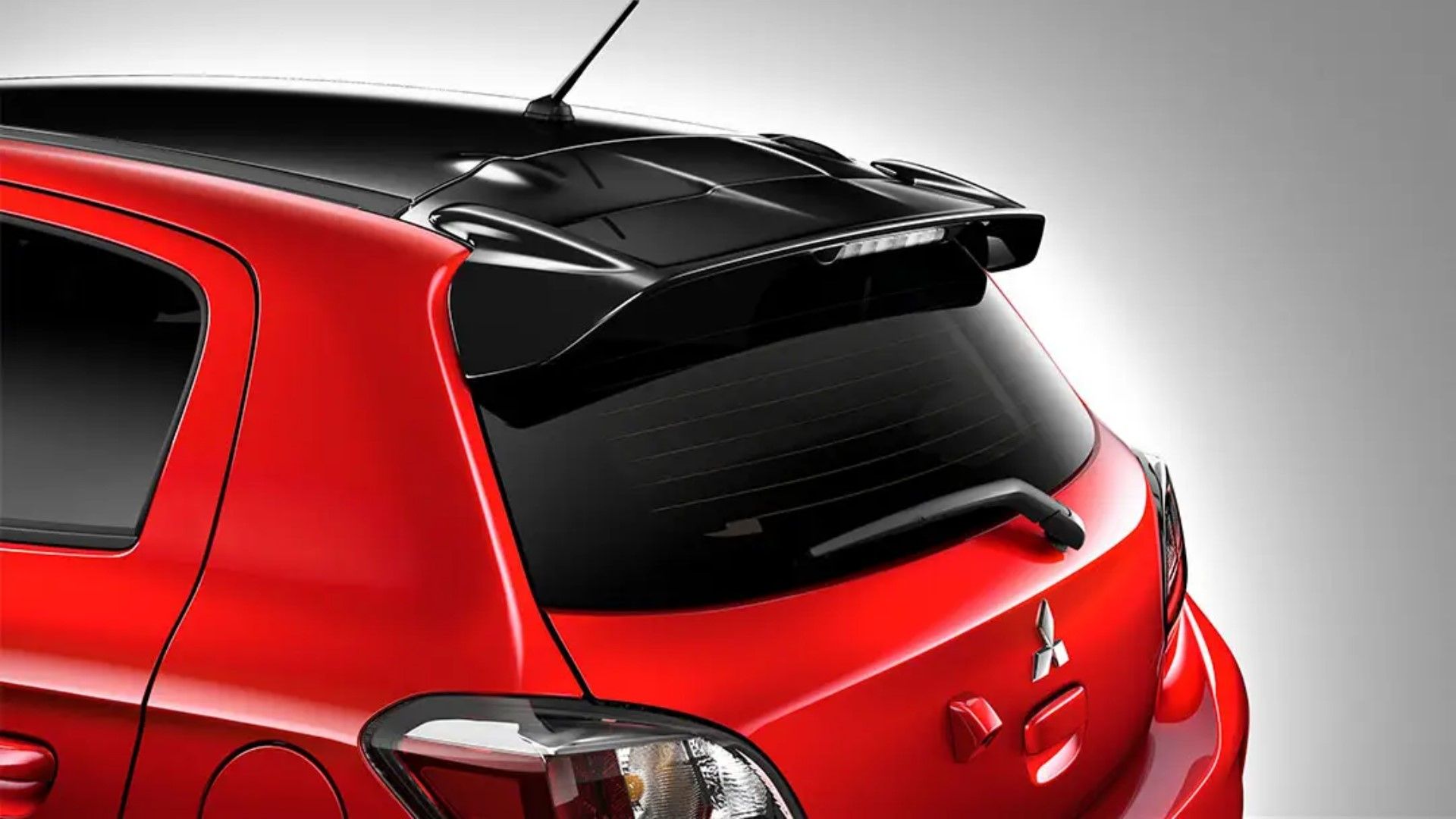 The 2024 Mirage will be available in the ES, LE, Black Edition, and SE trims. ES is the base trim and has standard features such as a 7.0-inch touchscreen infotainment system, automatic climate control, and a forward collision mitigation system with pedestrian detection. The ES MT and the SC trims offering the five-speed manual transmission have been discontinued.
Trims LE and up add features such as 15-inch alloy wheels, automatic headlights, and a black roof spoiler. The Black Edition is a new trim for 2024 and features black 15-inch alloy wheels, a black roof spoiler, and black side mirror caps. The interior has vibrant red accents and a leather-wrapped steering wheel and shift knob. The SE is the top trim that adds features such as a rearview camera, heated front seats, and a keyless entry and start system. The SE trim also comes with LED headlights and fog lights, whereas the rest of them come with Halogen headlights.
6
A Versatile Cabin With A Excellent Cargo Room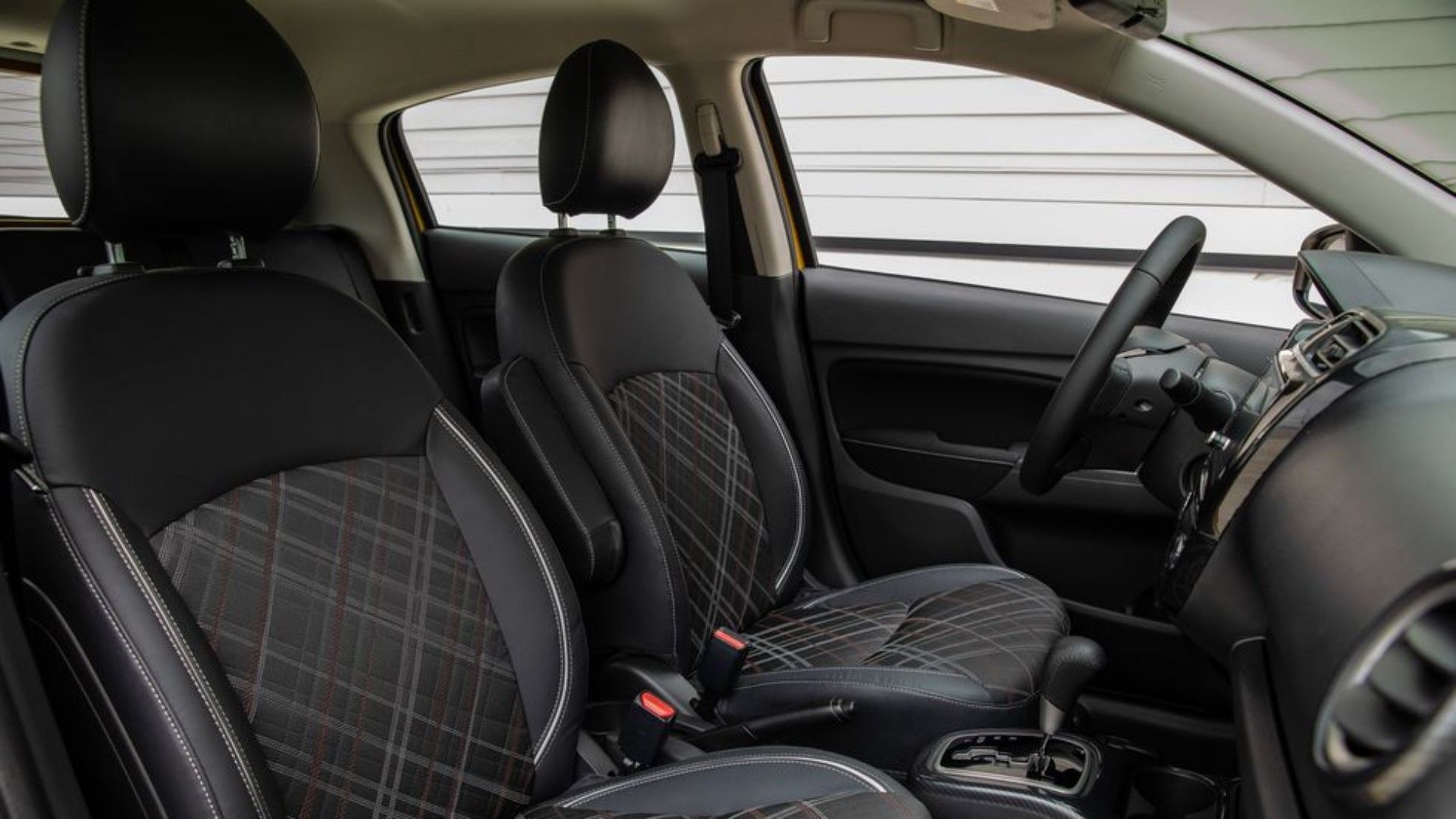 As for interior space, the front and the rear headroom stand at 39 and 37.2 inches, alongside the front and the rear legroom being 41.7 and 34.2 inches, respectively. The cargo space is 17.1 cubic feet, with foldable rear seats which provide extra space if needed.
A manual liftgate is standard across all the trims, along with a cargo light, cargo cover, and a spare tire under the cargo floor. Just for some context, the cargo space for the 2024 Nissan Versa and the 2023 Kia Rio, which are Mirage's competitors in the subcompact segment, is 14.7 cubic feet and 13.7 cubic feet respectively.
Interior Dimensions Compared: Mitsubishi Mirage Vs. Sub-Compact Competition
| | | | | | | | |
| --- | --- | --- | --- | --- | --- | --- | --- |
| Subcompact Car | Seating Capacity | Total Passenger Volume (cubic feet) | Front Head Room (inches) | Front Leg Room (inches) | Second Row Head Room (inches) | Second Row Leg Room (inches) | Cargo Space |
| 2024 Mitsubishi Mirage | 5 | 86.2 | 39 | 41.7 | 37.2 | 34.2 | 17.1 |
| 2024 Nissan Versa | 5 | 88.9 | 39.5 | 44.5 | 36.3 | 31 | 14.7 |
| 2023 Kia Rio | 5 | 89.9 | 38.9 | 42.1 | 37.4 | 33.5 | 13.7 |
(Source: Mitsubishi, Nissan, Kia)
The total cabin interior volume for the subcompact hatchback is 103.3 cubic feet, with dimensions sitting at 59.4 inches tall, 65.6 inches wide, and 151.4 inches long.
5
The 2024 Mitsubishi Mirage Comes Well-Equipped With Driver Assistance Tech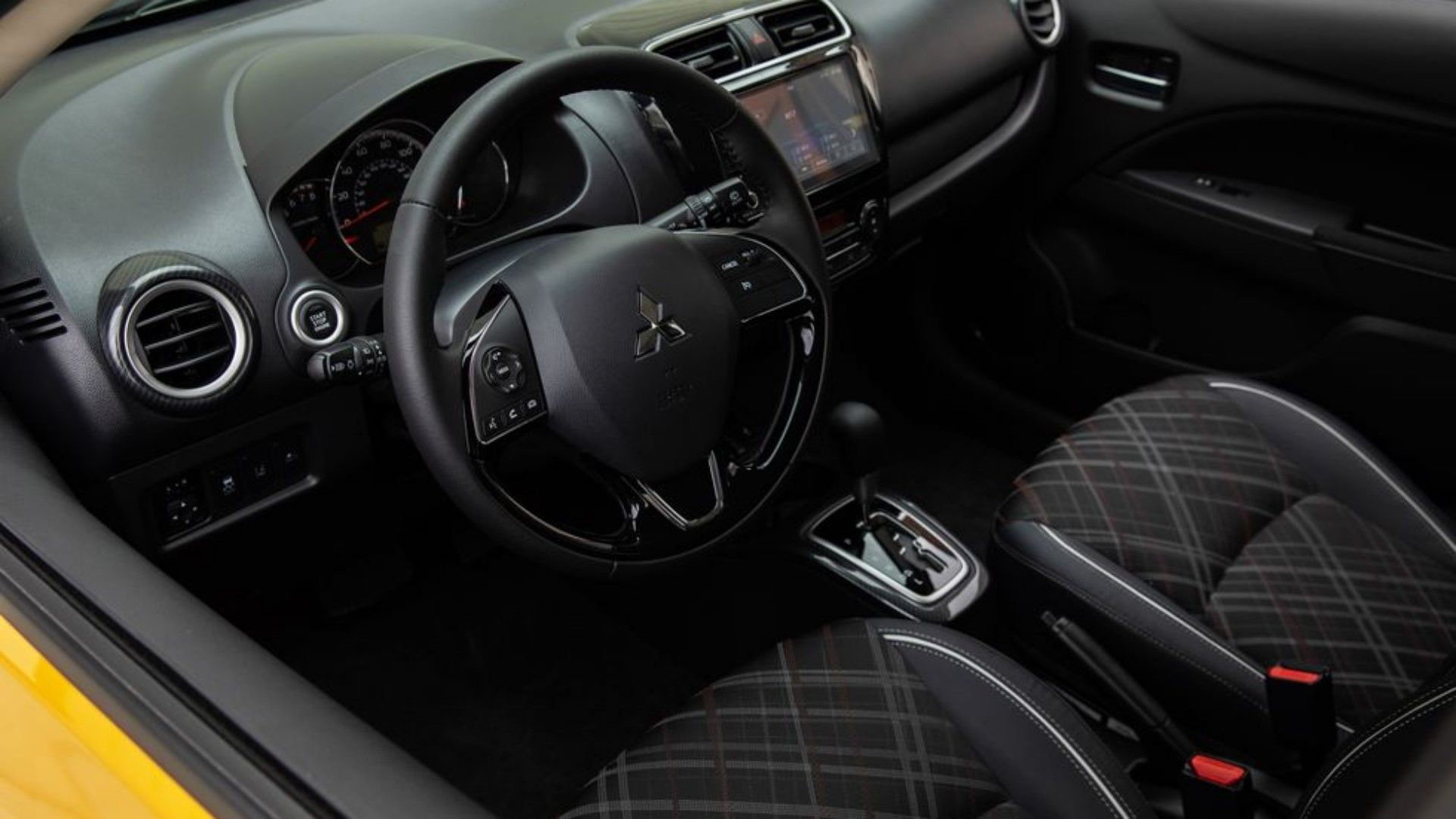 Besides the fuel economy and the pocket-friendly pricing that the 2024 Mitsubishi Mirage has to offer, it also comes with well-equipped technology
Forward Collision Mitigation system (FCM) with pedestrian detection
Active Stability Control (ASC)
Anti-lock Braking System (ABS)
Electronic Brakeforce Distribution (EBD) and brake assist
Hill Start Assist (HSA)
Tire Pressure Monitoring System (TPMS)
Anti-theft engine immobilizer
Advanced Dual-Stage Front Airbags
Driver Knee Airbags
Front Seat-Mounted Side Airbags
Side Curtain Airbags
Three-Point Seatbelts (for all seats)
Adjustable Front-seat Shoulder Belt Anchors
Child Safety Locks
The 2024 Mirage comes with automated emergency braking with pedestrian detection being standard across all trims and with the Lane Departure Warning (LDW) in the SE trim only. All of the above features are standard across all the trims, except the automatic high beam and the automatic rain-sensing wipers, which are exclusive to the SE trim and trims LE and up, respectively. The NHTSA has given the 2024 Mitsubishi Mirage four out of five STARS in its overall safety rating, and the IIHS has given the 2017–2023 models of the Mitsubishi Mirage a Marginal rating in their overall evaluation.
Related:
How Much More Driver Assistance Technology Will You Tolerate?
4
The New Mitsubishi Mirage Is Available In Two New Colors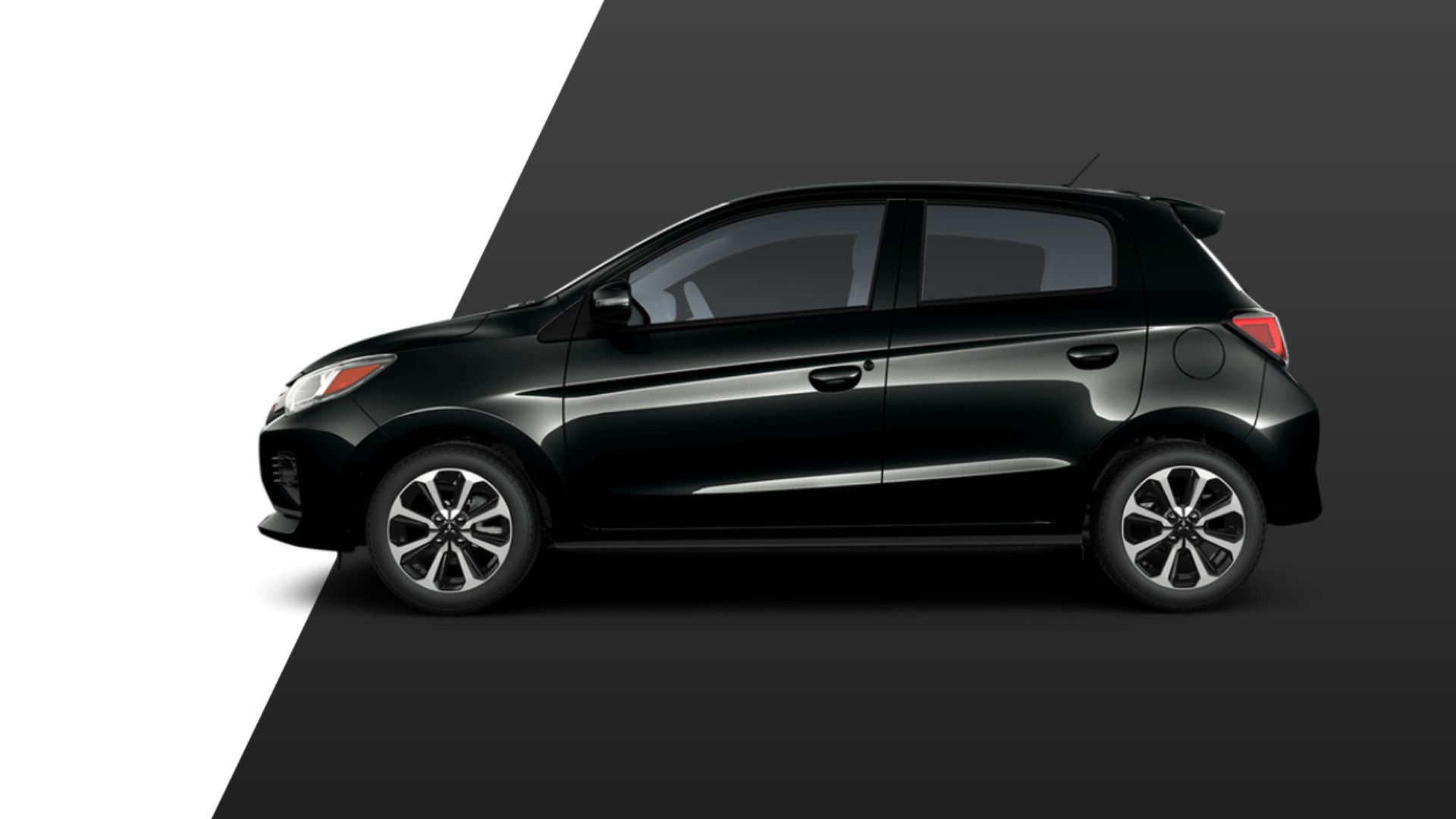 The color palette for the 2024 Mirage has just received two new replacements for Mercury Grey and Mystic Black—Graphite Grey and Jet Black. Besides the two, the car is also available in Starlight Silver, Wine Red, White Diamond, Sapphire Blue, Infrared Metallic, and Sand Yellow.
The Black Edition trim is available in all colors with black accents on the exterior (roof, spoilers, rear-view mirrors, etc.) and red accents on the interior. A car that is easy on the pocket, gives great fuel economy, is equipped with modern technology to ensure safety, and gives multiple options in the color-aesthetic that it would come in? Yes, please.
3
Best-In-Class Warranty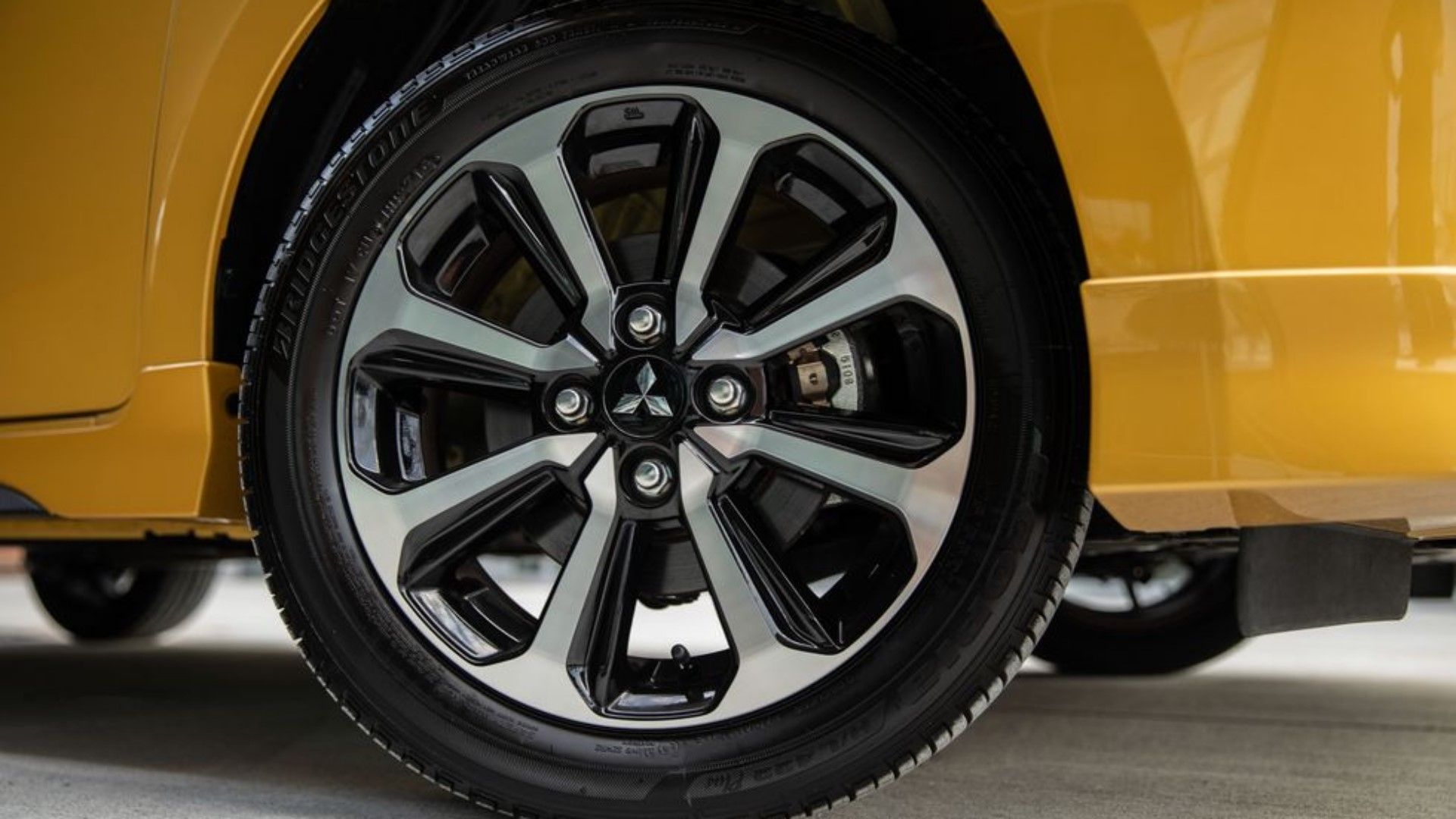 Another new addition to the 2024 Mirage is Mitsubishi's warranty on the car—both bumper-to-bumper and on the powertrain. The new Mirage comes with a five-year or 60,000-mile bumper-to-bumper warranty and a 10-year or 100,000-mile warranty on the powertrain. Unlike its name, the 2024 Mitsubishi Mirage is no optical illusion in the economy segment.
Great fuel economy, great warranty, starts at under $17,000, and comes with complimentary maintenance like no other; what more could a budget-conscious shopper want in a car? And just when it couldn't get any better in the segment, Mitsubishi has also newly introduced complimentary maintenance of two years or 30,000 miles warranty, with the 2024 Mirage.
2
Turning Heads With Its Turning Radius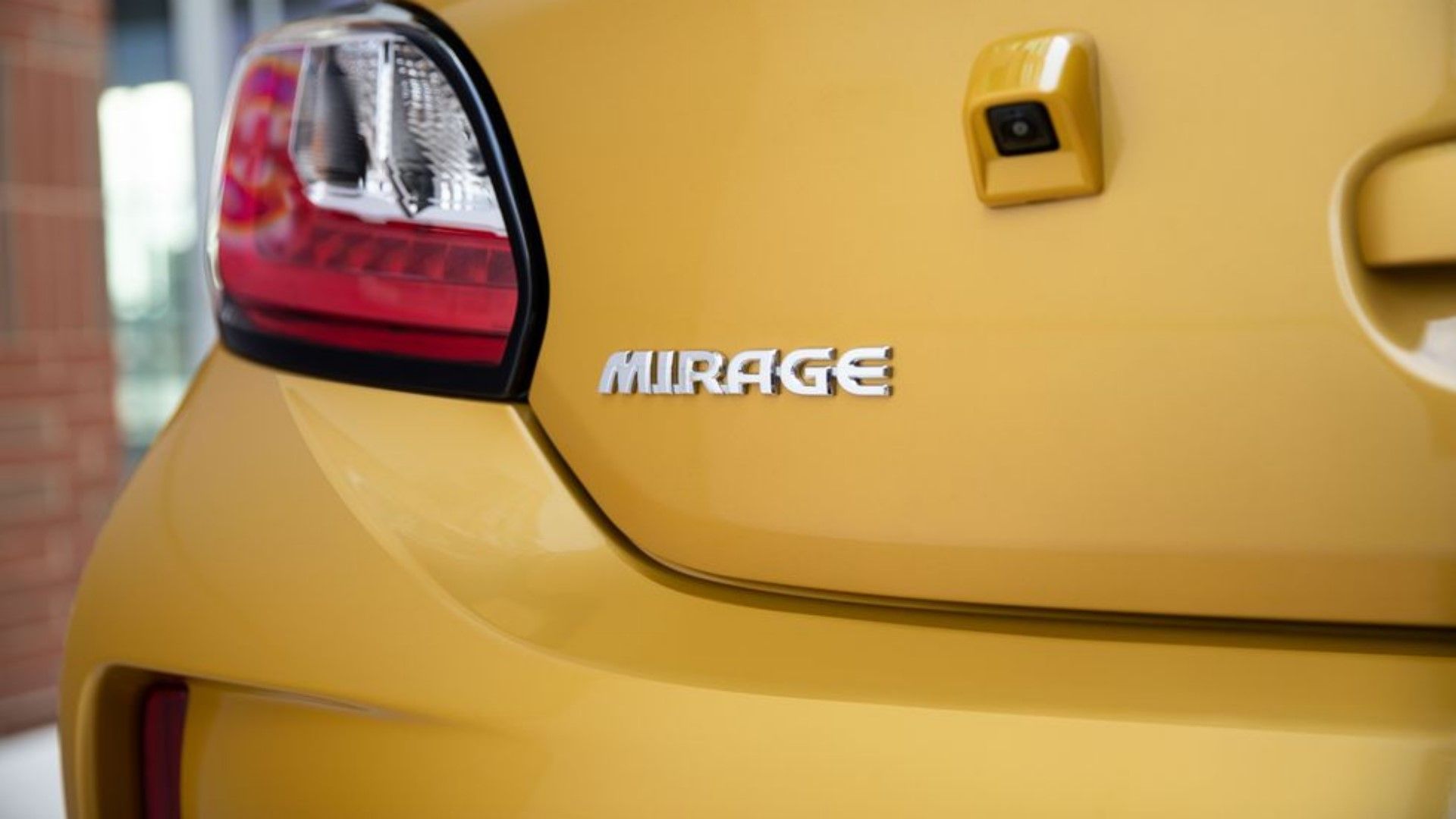 With the new Mirage, it is not simply great fuel economy or great driver assistance features that you get—the car also has a minimal (and very competitive) turning radius. Driving through and navigating narrow lanes should not be a problem, making it the perfect runabout for the urban jungle.
Turning Radius Compared
| | |
| --- | --- |
| Subcompact Hatchback | Turning Radius |
| 2024 Mitsubishi Mirage | 15.10 ft |
| 2023 KIA Rio | 16.75 ft |
| 2022 Chevrolet Spark | 16.90 ft |
(Source: Mitsubishi, Kia, Chevrolet)
With figures like that, it would be pretty safe to say that the 2024 Mitsubishi Mirage does turn quite a few heads when it comes to its turning radius.
Related: 10 Cheap New Cars That Are Worth Buying
1
The 2024 Mitsubishi Mirage Is Extremely Affordable!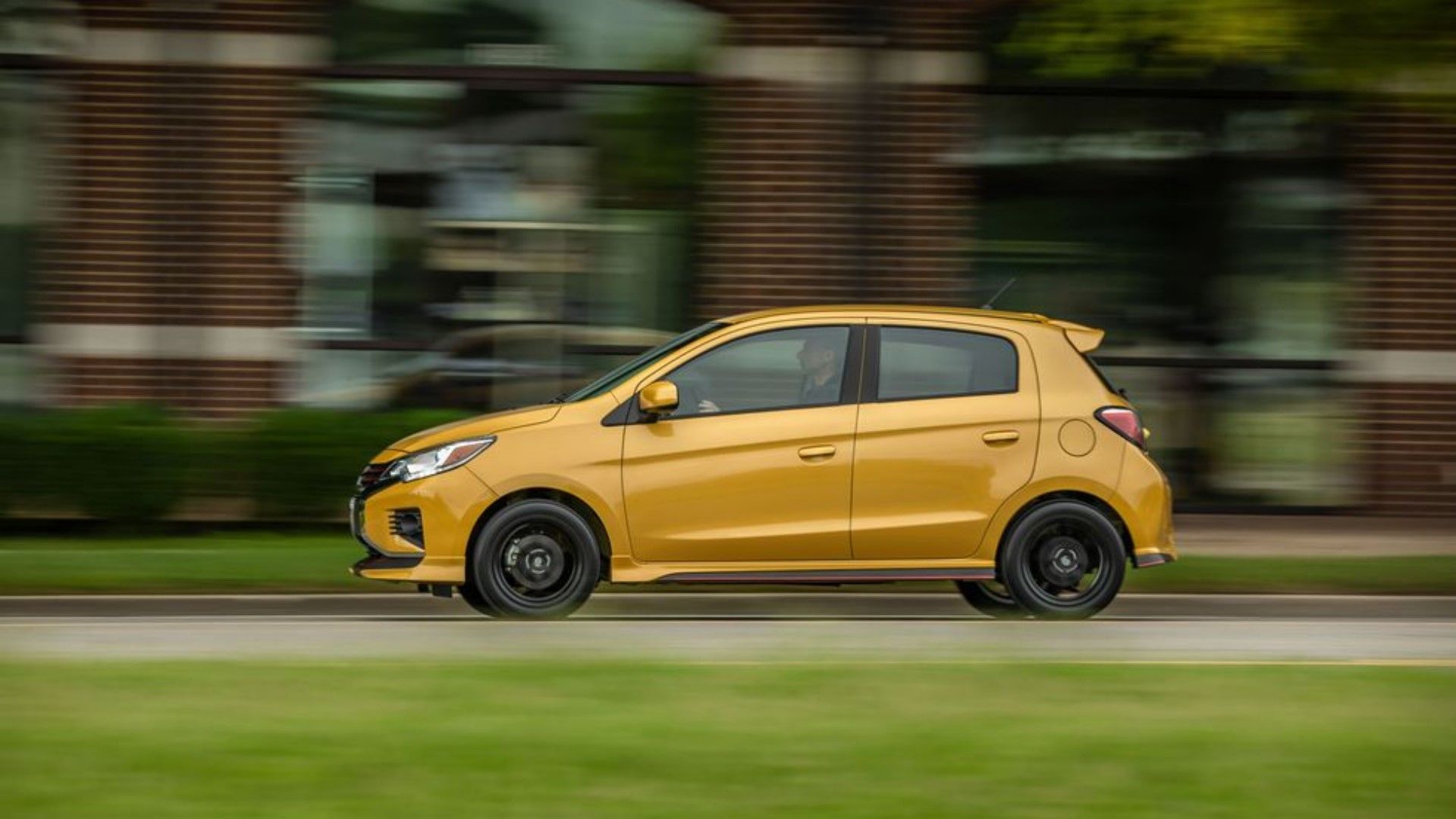 Standing atop the economy segment, along with great fuel economy and all else that it has to offer, the 2024 Mitsubishi Mirage starts at an impressive low price of $16,695, which is the cost of the base ES trim without any add-ons. The pricing for the trims is as follows.
2024 Mitsubishi Mirage Pricing
| | |
| --- | --- |
| Trim | Price |
| ES | $16,695 |
| LE | $17,245 |
| SE | $18,595 |
| BE | $17,845 |
(Source: Mitsubishi)
The 2024 Mitsubishi Mirage outdoes quite a few of its competitors in the segment concerning its pricing, fuel economy, and even in terms of warranty.
#Highlights #Mitsubishi #Mirage