Launched in 1958, the Honda Super Cub has become the most popular motorcycle in the world, with more than 100 million produced. Not only that, but the advertising campaign Honda conducted in the U.S.A in the 1960s – You Meet The Nicest People on a Honda – changed the face and perception of motorcycling. Buried between various standard Honda models, was this little gem of a scoot that brought millions of new riders to motorcycles.
In 1964, the off-road friendly CT90 trail bike was a logical progression of the Super Cub idea, born of a very specific need (more on that later). It was rugged, yes, but just as user-friendly and an absolute joy to ride off-road, or anywhere for that matter. And as motorcycle fads came and went, the Trail125, as it is now called, is still in production in 2023, and with the bare minimum of electronic rider aids to boot.
Information and specifications for this article were pulled from Motor Cycle News, Cycle World and official Honda publications.
Updated November 2023: The Honda CT125 continues to be as popular as ever. With its approachable manners and price, it's the perfect ride for beginners and experienced riders alike. To keep our readers up to speed on all the CT125 news, this article will be updated periodically with new information.
RELATED: Get Ready, CFMoto's Sexy Mini Bikes Are America-Bound To Take On Honda
The Trail 125 Is As Simple As It Gets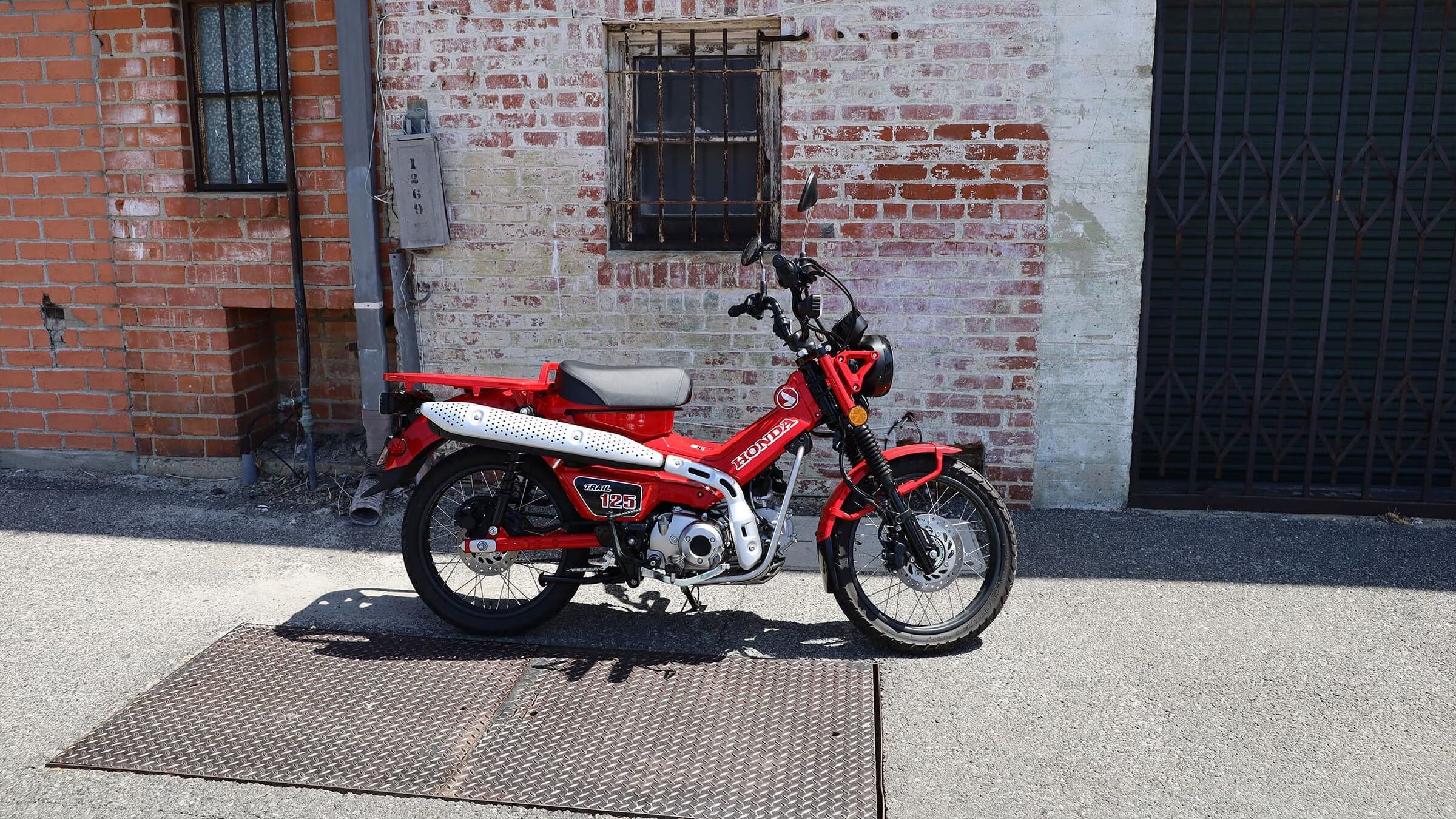 The Honda CT125 – sometimes known as the Trail 125 – is mechanically the same as the Super Cub C125, although the chassis and bodywork have undergone changes to make it more suitable for off-road work. The single-cylinder 125cc engine now has electronic fuel injection and ABS is fitted to the front wheel, but that is it as far as electronics go. With only 8 horsepower, it's not likely to need anything in the way of different power modes or traction control, and it doesn't have them. Simply get on and ride and let the bike do the work.
RELATED: The 10 Best Honda Scooters And MiniMotos
It's Instantly Recognizable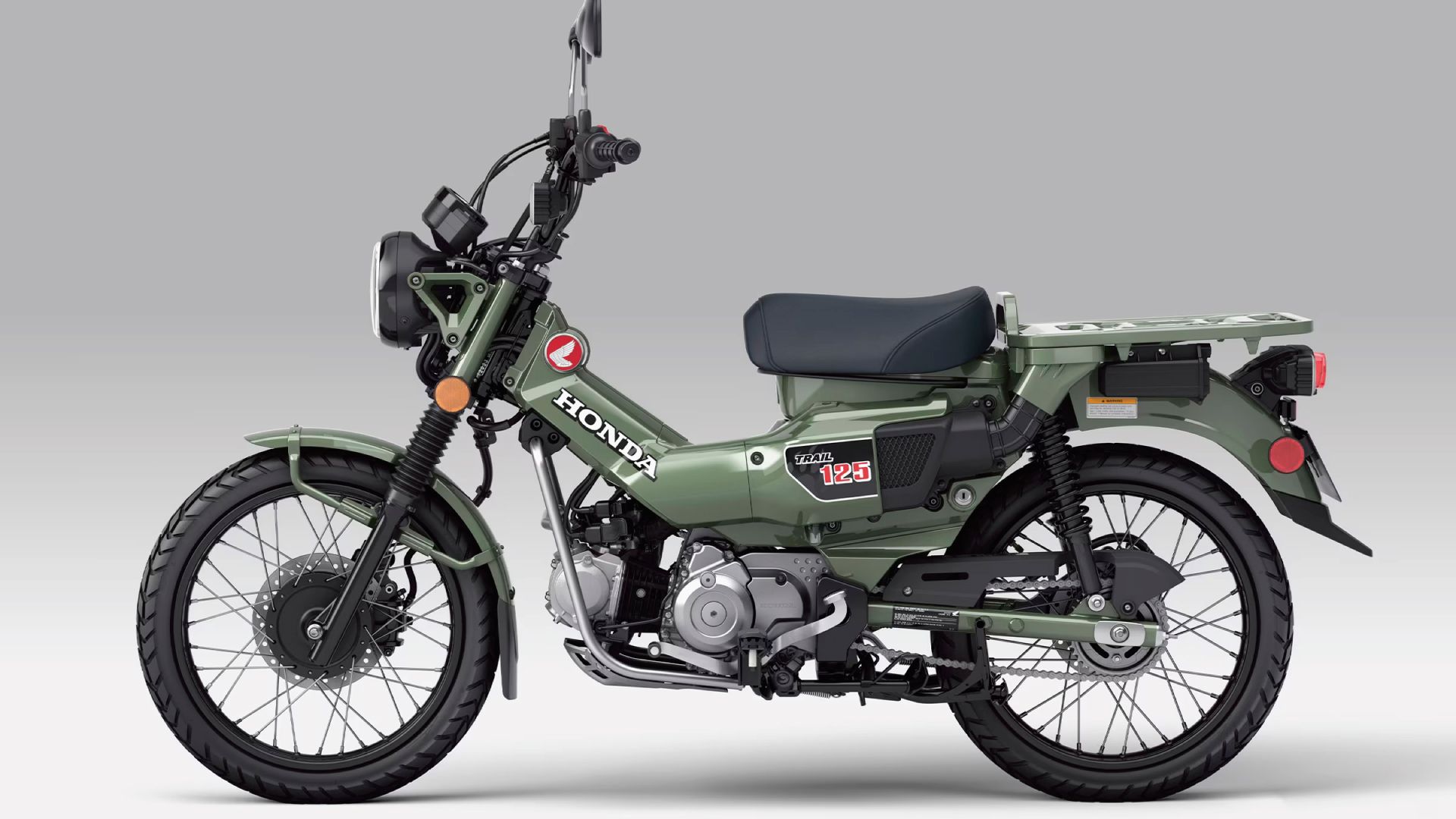 The 2022 Honda CT125 looks exactly the same as the 1964 CT90: if you rode an CT model back in the 1960s, then you will feel immediately at home on the 2022 model. Like all Honda Super Cubs and their derivatives, Honda has chosen not to mess with the recipe at all: if it works, why change it? The design features similar step through frame, single seat and off-road oriented tires and rear rack.
The True Story Behind Honda's Trail125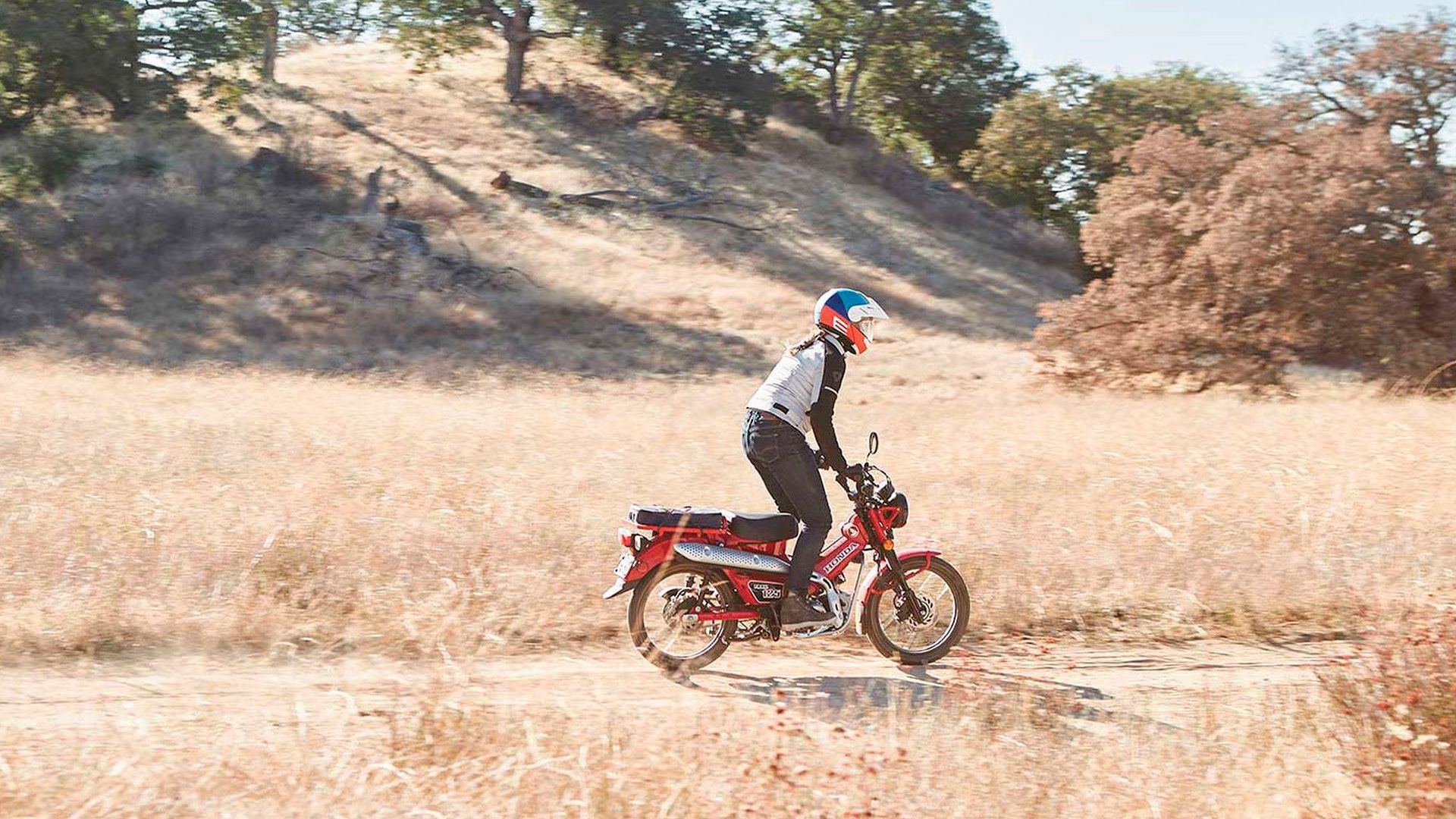 In 1960, a Honda dealer in Boise, Idaho, was selling a lot of the new Honda 50 step-thru motorcycle, more than anyone thought possible for the terrain in that part of the world. Herb Uhl modified the Cub by taking off the leg-shield bodywork, fitting knobbly tires, and altering the gearing by fitting a larger rear sprocket, making it more suitable for riding off-road. Honda USA noticed how many bikes Herb was selling, so he sent one of his trail Cubs to the California head office of Honda USA. Sales Manager Jack McCormack saw how good it was and how it sold well to hunters and fishermen who wanted a cheap way of getting off the beaten track. He sent the machine to Honda Japan and they also saw the possibilities and the CA100T Trail 50 was born. From 1961 to 1986 and from 2021-onwards, the CT Hondas have been very good sellers in the U.S.
RELATED: Top 10 Mini Motos Money Can Buy
Low Tech And Simple To Ride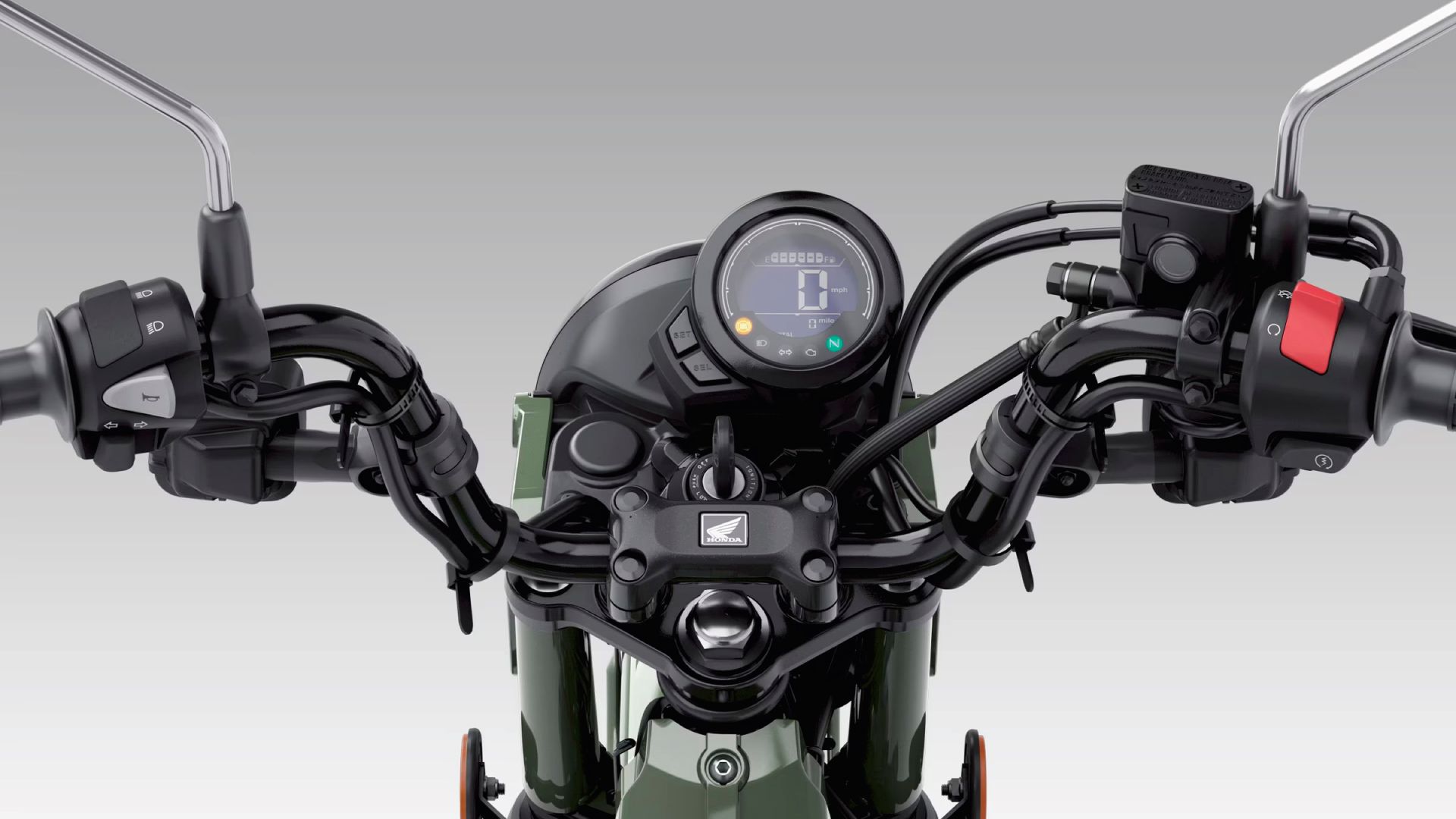 While the CT125 has a four-speed manual gearbox, it is also fitted with a centrifugal clutch, which means you never need to bother with the clutch lever, which is just as well as there isn't one! Simply stamp the foot lever into first gear, twist the throttle, and off you go. When you need the next gear, you just hook the gear lever with your toes or kick down with your heel of your left foot on the double-ended lever, and the next gear is engaged. When you come to a stop, the clutch automatically disengages itself. All-in weight is a super light 259 pounds and the seat height is a low 31.5-inches making it easy for anyone to ride. The center of gravity is also very low making it super easy to ride through tricky off-road sections
It's Endlessly Practical
The 1.4-gallon gas tank should give a range of around 150 miles so, even if you run out and have a spare gas container with even a pint of gas in it, it will still get you a further 20 miles or so. The exhaust is high mounted and so is the air intake, so you can ford streams and shallow rivers without drowning the engine. The luggage rack can carry up to 44 pounds, which is twice as much as the top box on a Honda Gold Wing can carry! The front and rear wheels are the same size, so you only need to carry one size of spare inner tube. The tires are semi-knobbly on/off-road. There is a center stand and a kickstand and both brakes are discs that will perform much better than drum brakes in the wet.
You Can't Stall The Engine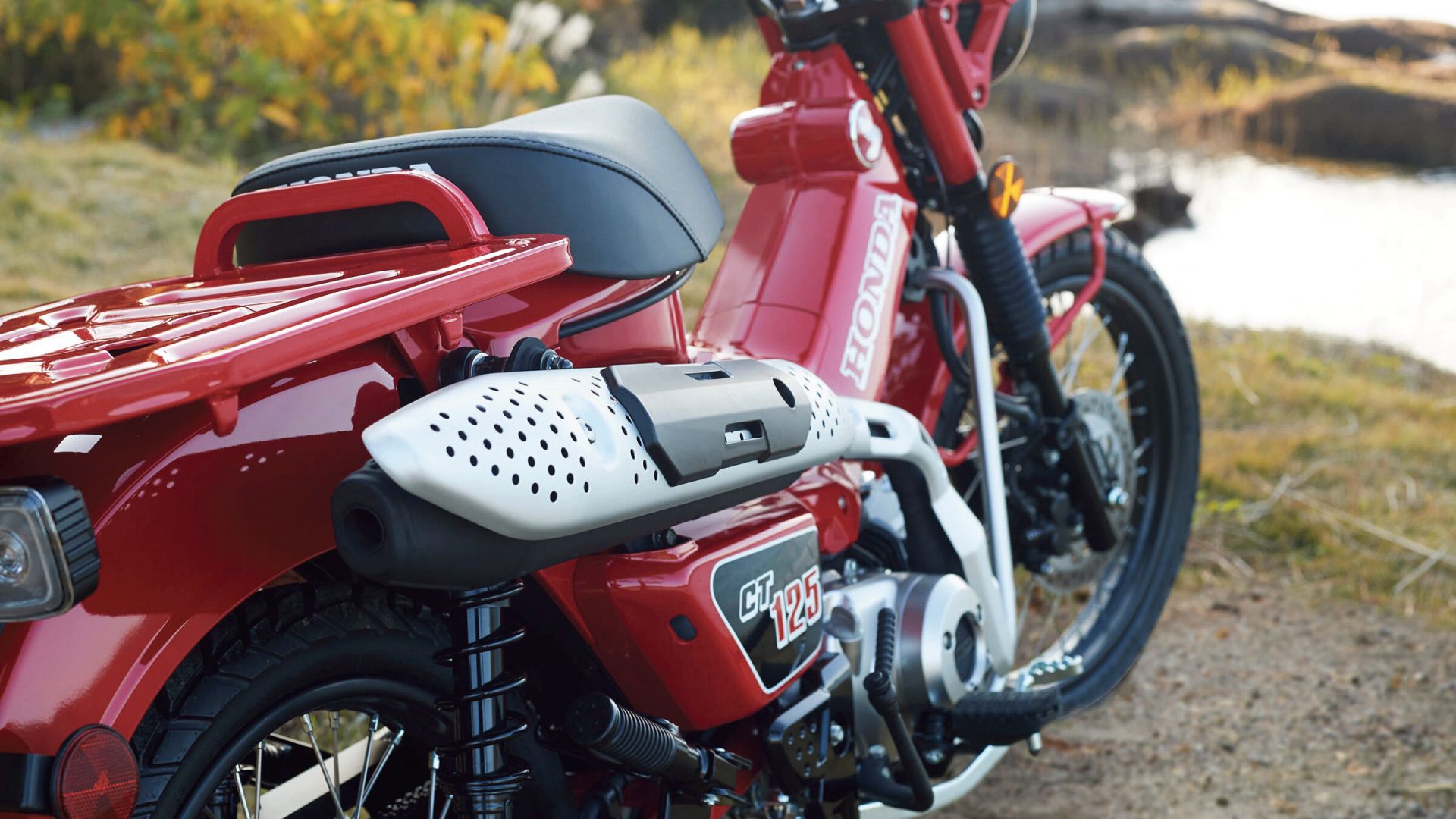 One of the biggest worries when riding off-road is the possibility of stalling the engine at the worst possible moment, when kick-starting the engine might be impossible and even finding neutral, so you can press the starter button would be a masterclass in balance and control, never mind setting off again if you are facing uphill.
The centrifugal clutch on the CT125 means that you can never stall the engine as once you stop, the clutch will disengage, leaving the engine to run free of any load. Then, when you want to get going again, just twist the throttle: no clutch to slip! Even if you do find yourself in trouble, the CT125 is so light, that you'll have no problem manhandling it around to a point where you can re-mount and get going again.
Engine Specifications
| | |
| --- | --- |
| Engine | Air-cooled 80º single-cylinder four-stroke |
| Capacity | 124.9 cc |
| Starter | Electric & kick |
| Transmission | Semiautomatic; four speeds |
| Clutch | Automatic centrifugal |
| Final Drive | Chain; 14T/39T |
You'll Never Get A Speeding Ticket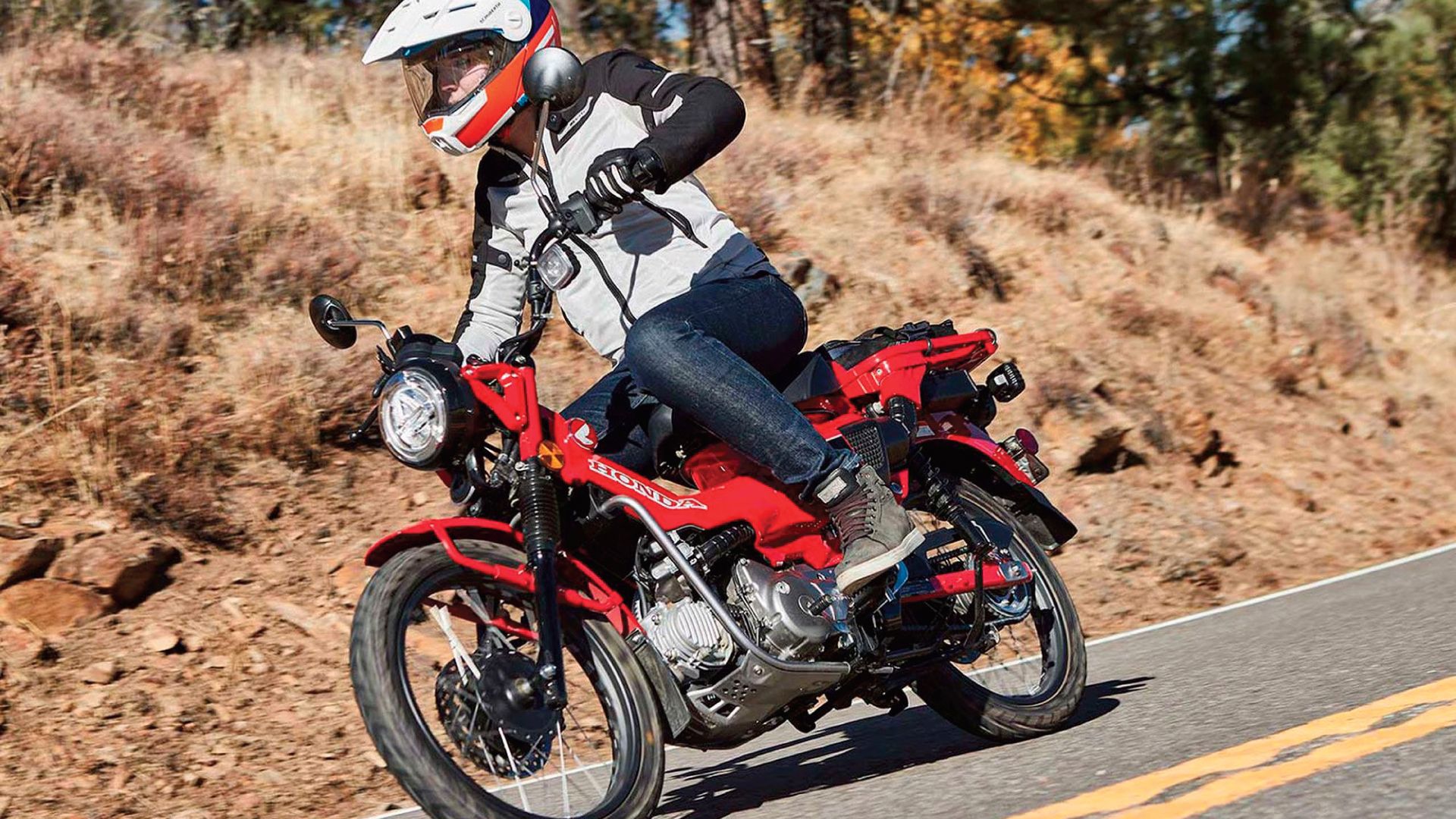 With a top speed of 55 miles per hour, you'll never be in danger of dropping a gear to disappear, and get a ticket for your troubles. Besides, the CT125 isn't a motorcycle for the highway anywa, unless you want to have a truck stuck right up your exhaust pipe! The lower gearing of the CT 125 against the Cub 125 lowers the top speed but improves initial acceleration and also its off-road ability. The CT125 is happiest, however, tootling along at about 40mph, which it will do all day long.
Performance Specifications
| | |
| --- | --- |
| Power | 10 hp |
| Torque | 7.7 ft-lb |
| Fuel Consumption | 188 mpg |
| Tank Range | 150 miles |
| Top Speed | 55 mph |
No Need For Any Adjustments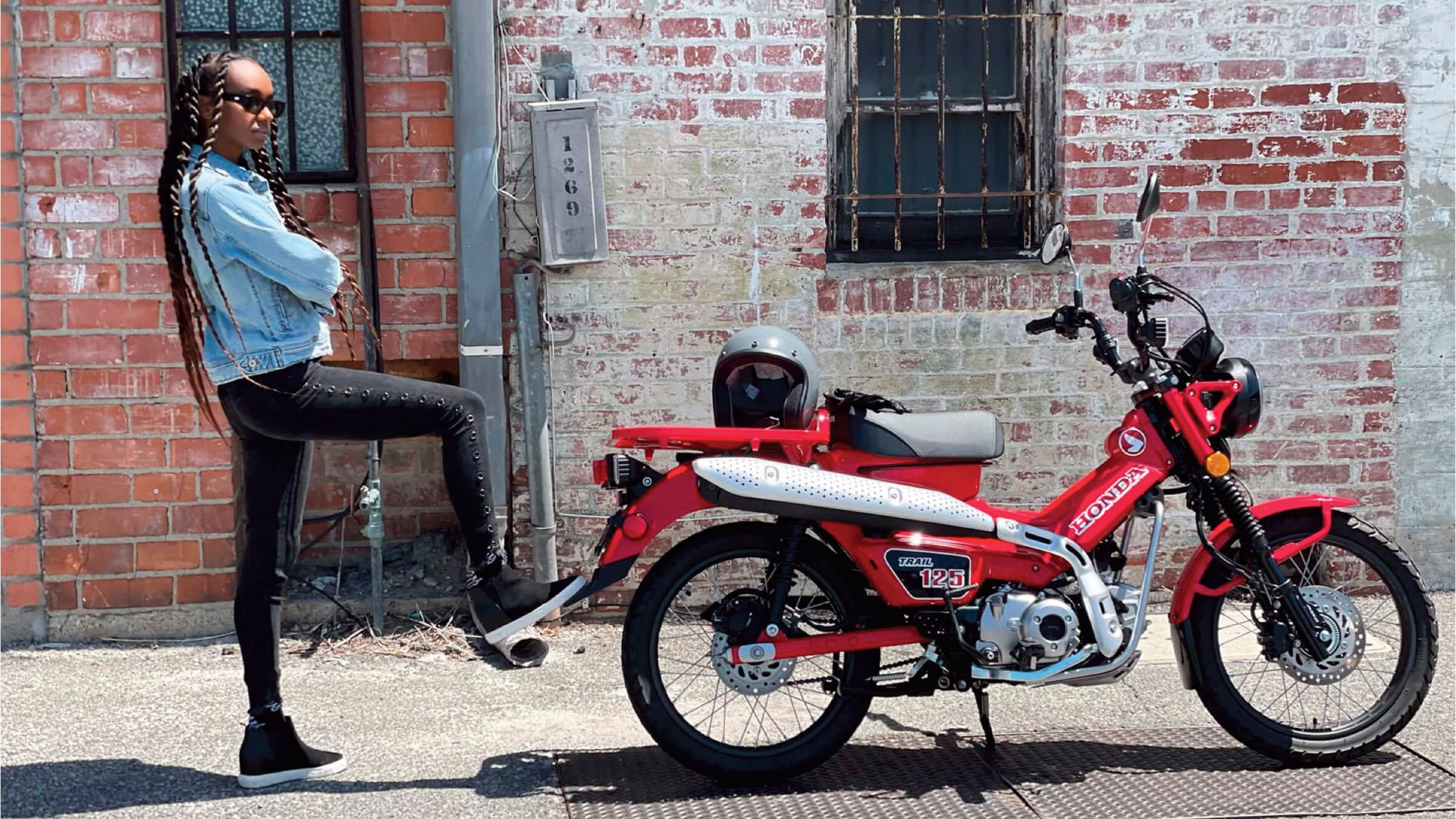 The suspension is as basic as you could wish for with absolutely no adjustment possible and, while the forks and swing arm will flex under hard use, there is very little to actually go wrong. There are no electronic rider aids with different parameters and no large TFT dash to get cracked in the event of a fall. You can't turn the ABS off and there is both an electric start and a kick starter.
Suspension, Brakes and Tires
| | |
| --- | --- |
| Front Suspension | 27 mm telescopic inverted fork; 4.3 in. travel |
| Rear Suspension | Twin shocks; 3.4 in. travel |
| Front Brakes | Single hydraulic caliper w/ 220 mm disc; ABS |
| Rear Brakes | Single hydraulic caliper w/ 190 mm disc |
| Front Tire | 80/90-17 |
| Rear Tire | 80/90-17 |
Honda's Reliability On Full Display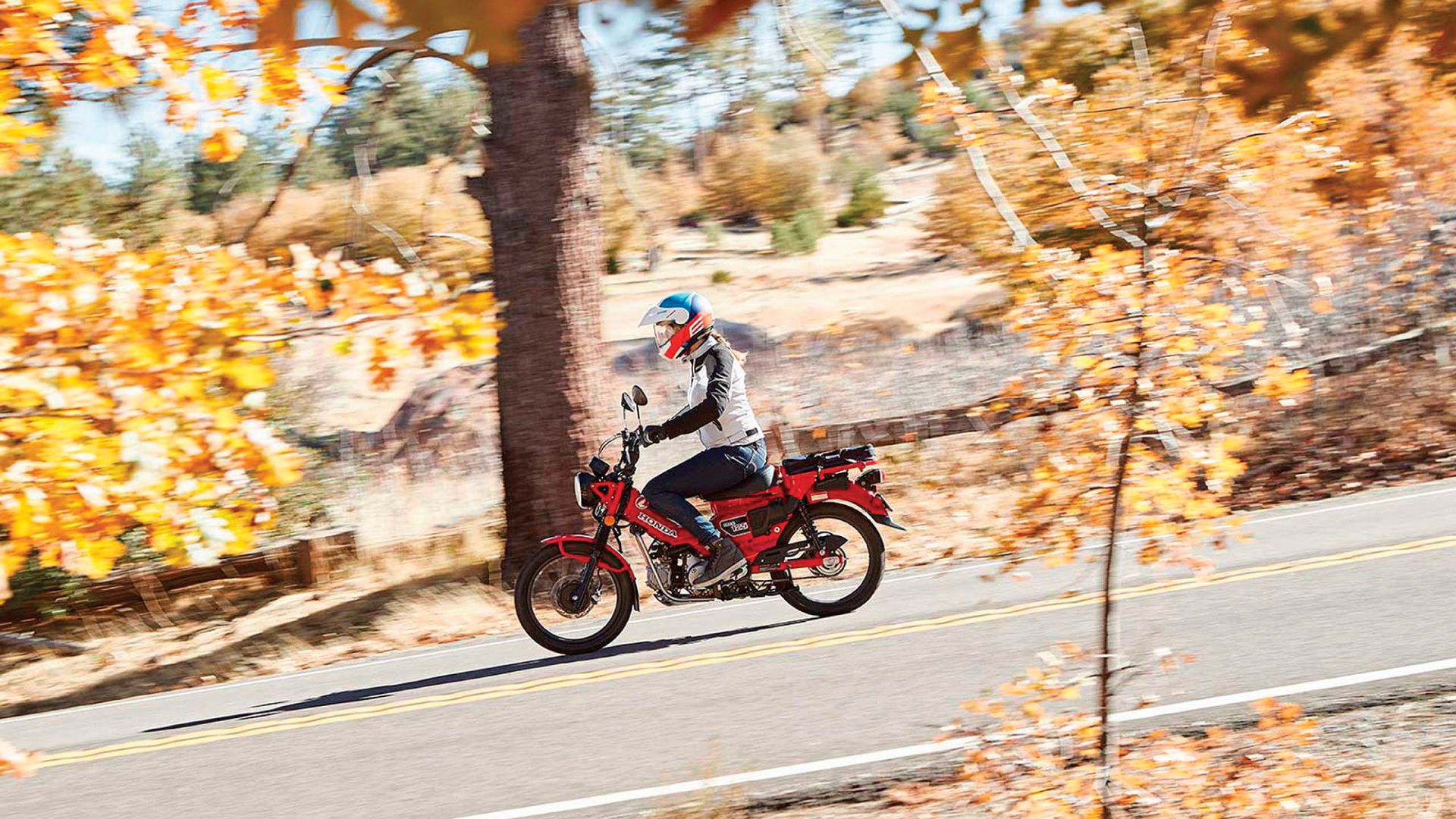 While simplicity is one barrier to unreliability, being a Honda is the next best thing. Hondas are the most reliable pieces of motorcycle engineering you could ever wish for. Some people might call that characterless, but who wants to be stuck by the side of the road, broken down? With over 100 million Super Cubs and their derivatives built, Honda has had plenty of time to sort out any issues, and it is a truth that a Honda Super Cub will just keep on running no matter what abuse you subject it to.
No One Will Judge You For Riding The Trail125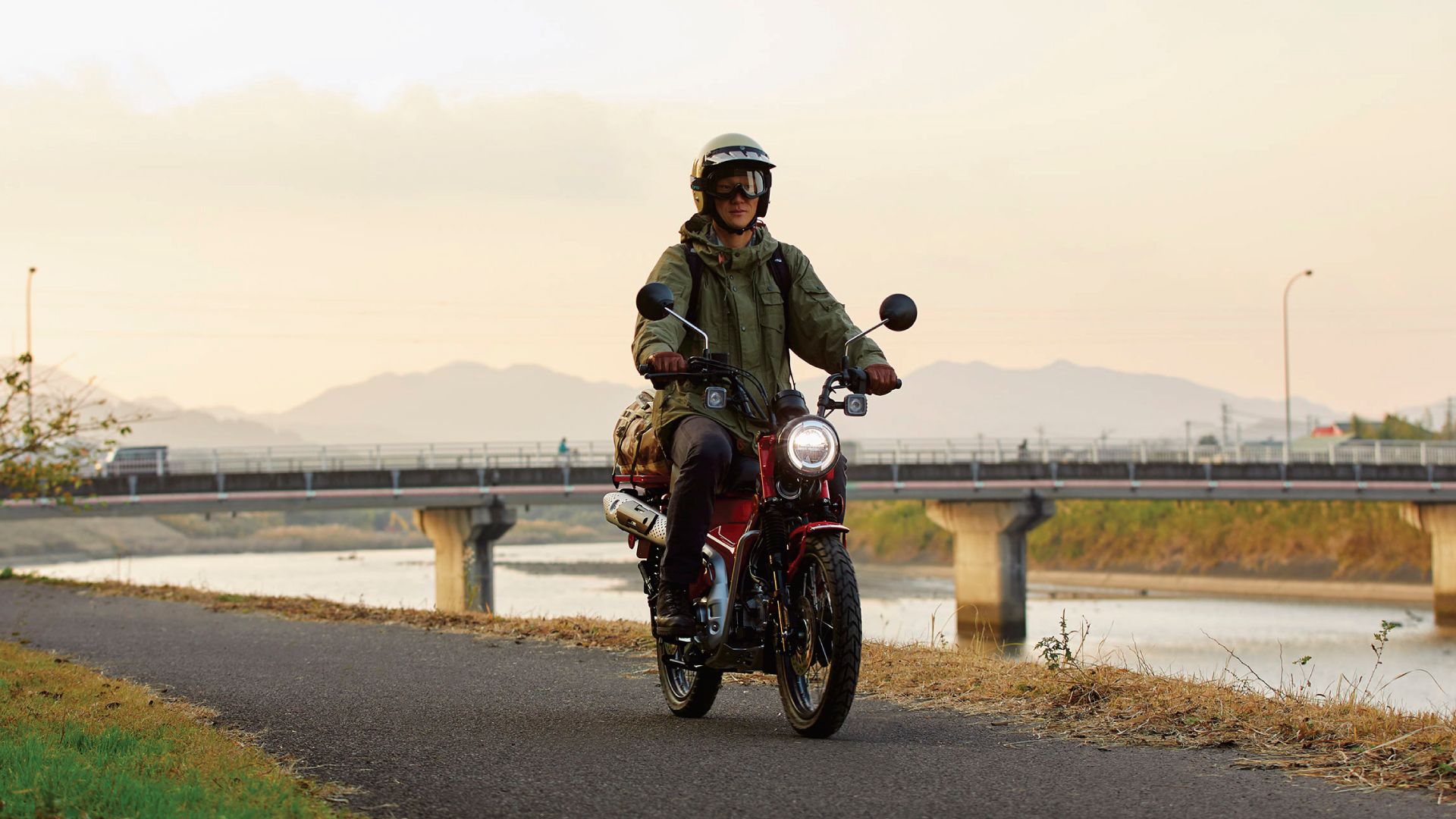 There's just something so wholesome about the Trail125, that will make even the hardest of Harley riders smile. It is utilitarian, true, yet it positively oozes fun times out of its gorgeous red frame. It is almost guaranteed that an owner of the Trail will be mobbed at any gas station with questions and stories. And its unique, rugged, good looks will be the talking point at any bike night. So no, there will be no judgment cast your way. Only wistful looks of riders wishing they had enough spare room in their garage, and perhaps some loose change in their piggy bank, so that they too, could enjoy a ride on their local single track, on one of the best off-road bikes ever made.
#Analog #Honda #CT125 #Unbeatable