In today's world, hybrid cars are on the rise due to the growing concern for the environment and carbon emissions. In the realm of mid-size sedans, the Hyundai Sonata Hybrid is making a strong presence, aiming to compete with all who stand in its way, thanks to its outstanding performance and top-notch quality, courtesy of a reputable developer like Hyundai.
In its hybrid version, it takes many cues from the regular model and has received several refinements to strive for perfection, one of which is the achieved aerodynamic efficiency. The Sonata is available in three hybrid trims: Blue, SEL, and Limited. When comparing them, the differences are not primarily centered around performance but rather focus on tech features and a few added luxuries. It's safe to say that the base trim has much to offer and nothing to be ashamed of. Let's take a closer look!
Specifications, data, and information related to the cars on this list have been sourced from Hyundai, fueleconomy.gov, Car and Driver, and other well-known resources and publications.
Related: The Impressive Engineering That Makes The Hyundai Sonata Hybrid Special
1
The Hyundai Sonata Hybrid Produces Up To 192 Horsepower Combined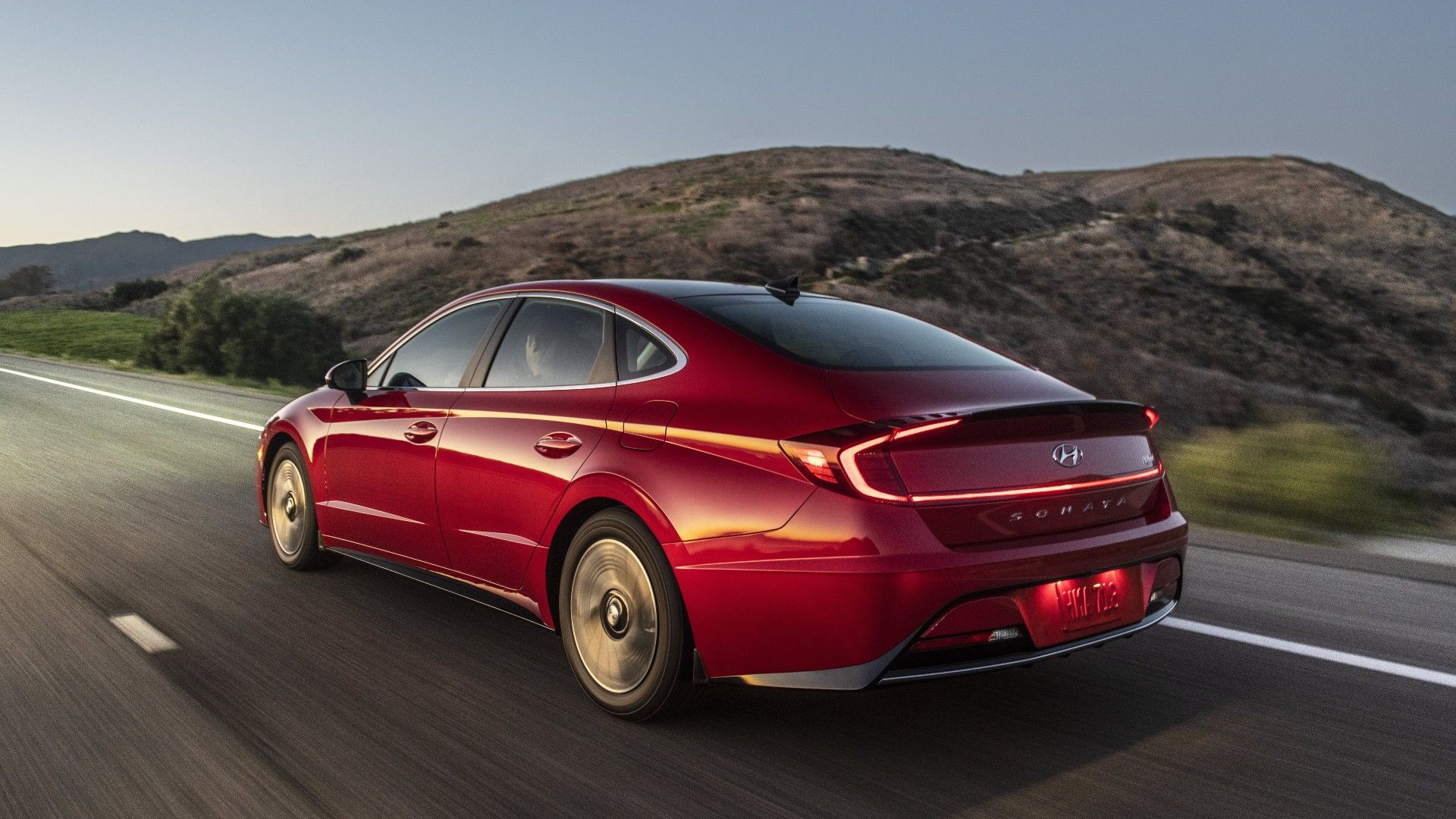 As for performance, all trims of the 2023 Hyundai Sonata (at least the hybrid variants) achieve the same values, with primary differentiation in other aspects such as tech features and interior quality.
Hyundai Sonata Hybrid's Specs
| | |
| --- | --- |
| Engine | 2.0-liter, four-cylinder hybrid engine |
| Horsepower | 192 HP |
| Torque | 151 lb-ft |
| Transmission | 6-speed electronic automatic |
| Drivetrain | FWD |
(Data sourced from Hyundai)
With the assistance of a 2.0-liter, four-cylinder hybrid engine with a hybrid battery pack and an electric motor with an output of 39 kW, each model is capable of reaching a combined 192 horsepower and has a torque of 151 pound-feet. Additionally, all models come with a front-wheel-drive setup and a six-speed automatic transmission as standard.
2
It Offers Decent Performance
Top Speed: 135 MPH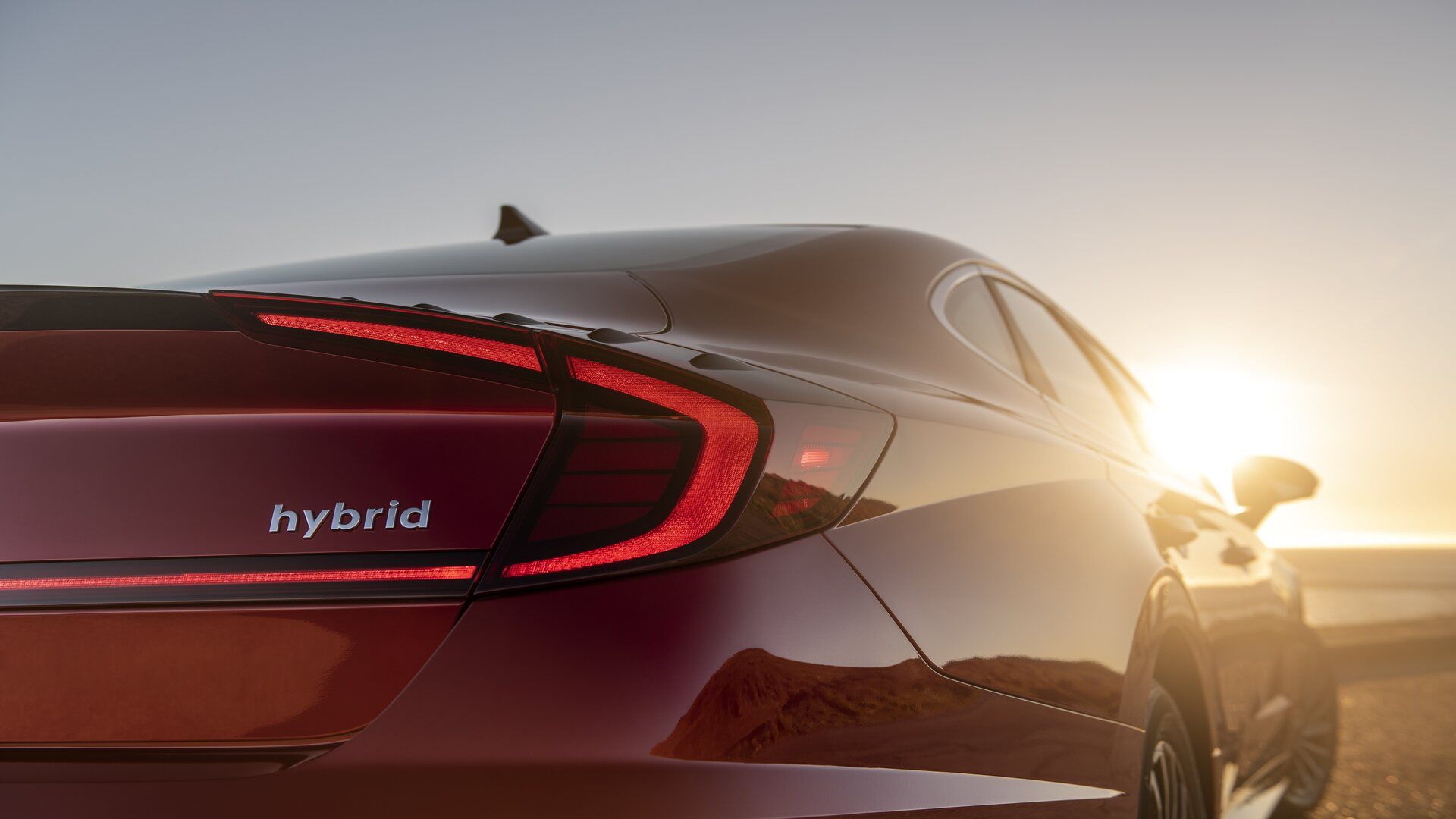 Hybrid technology has made significant advancements, and the top speed of hybrids may surprise you. The Hyundai Sonata Hybrid has a top speed of 135 mph, which is very similar to the one achieved by some of its direct competitors, such as the Kia K5, with a top speed of 130 mph, and the Toyota Camry Hybrid, which reaches 134 mph. It can also accelerate from zero to 60 mph in 7.3 seconds, a value that also falls within the range achieved by other alternatives.
Related: 10 Things You Need To Know About The Honda Accord Hybrid
3
It Boasts A Distinctive Exterior Style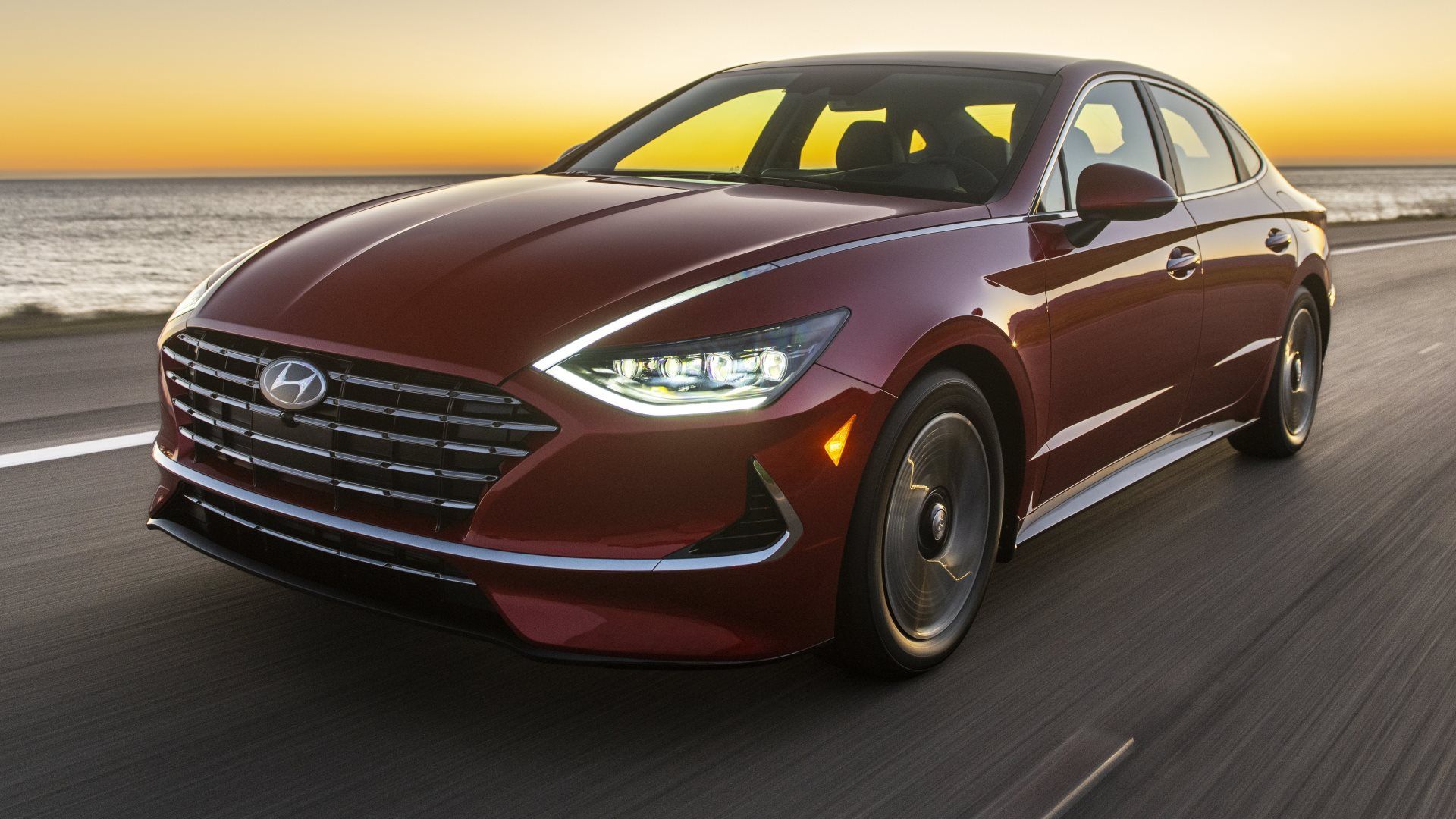 The hybrid's build is similar to the regular Sonata. However, it features a more aerodynamic exterior design, resulting in a reduced drag coefficient, from 0.27 to 0.24. This figure is slightly lower than the one offered by some of its direct competitors; while the Kia K5 boasts a drag coefficient of 0.27, the Toyota Camry registers at 0.28. This aerodynamic advantage could make a difference when comparing their top speed and 0-60 mph.
Hyundai Sonata Hybrid's Exterior Dimensions
| | |
| --- | --- |
| Length | 191.9 inches |
| Width | 73.2 inches |
| Height | 56.9 inches |
| Wheelbase | 111.8 inches |
| Ground clearance | 5.3 inches |
(Data sourced from Hyundai)
Additionally, the Sonata's exterior finish is showy, evoking a design reminiscent of vintage cars with its pointed and rounded front end. When you see it cruising down the street, especially in its classic black color, it'll surely catch your attention.
4
The Level Of Sophistication Goes Beyond Its Class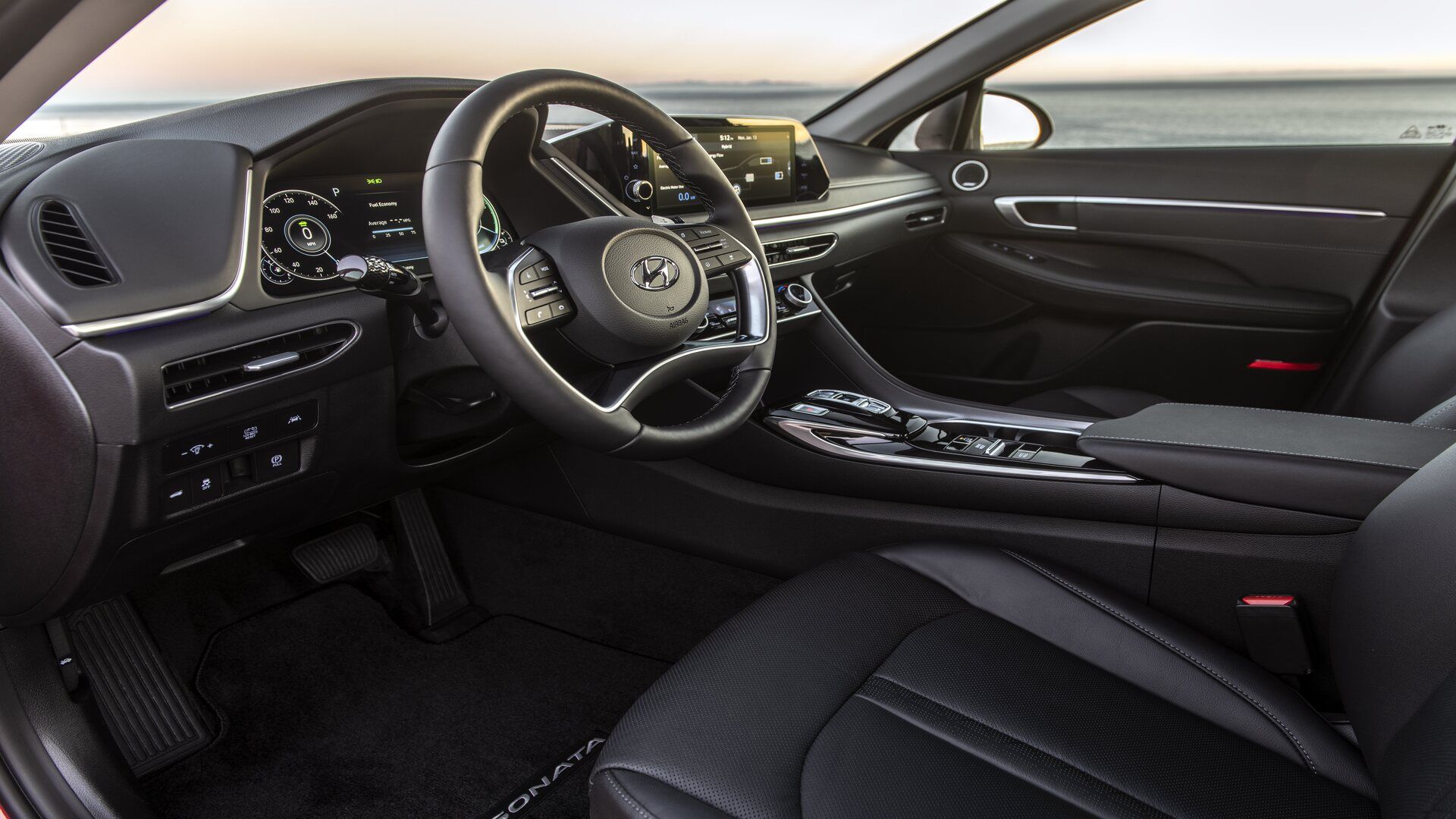 A combination of high-quality materials and meticulous attention to detail makes the Sonatas look more expensive than they really are. Upholstery comes in leatherette, leather, or a stain-resistant fabric for added convenience, especially for parents. Soft touches and available ambient lighting contribute to an upscale ambiance.
In addition, it features a six-way manually adjustable driver's seat and a four-way manually adjustable passenger seat to ensure a comfortable ride. In the 2024 model, the usual black color scheme can be updated with a two-tone look, featuring dark gray with a contrasting beige or camel tan, sporty and refined to the touch and the eye. If you add a panoramic sunroof, the cabin feels even more premium.
For those willing to invest further, higher trims also come with heated front seats and a leather-wrapped steering wheel. More specifically, the Limited trim offers additional luxuries such as a heated steering wheel, ventilated front seats, and a leather-wrapped dashboard.
Related: 10 Reasons Why The Lexus LS Hybrid Is Special
5
There Is A Broader Range Of Standard Tech Features Available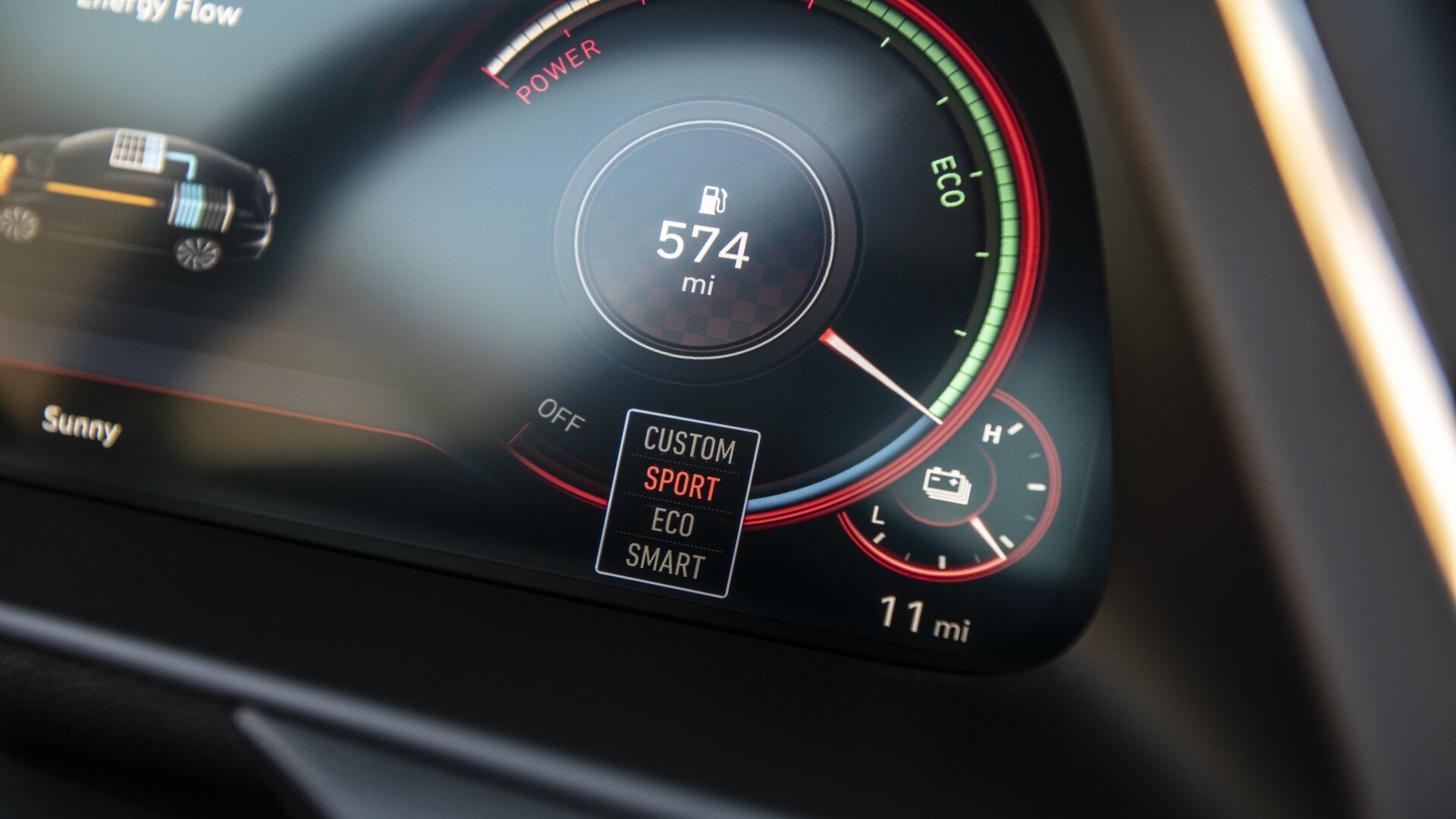 When compared to previous model years, the base trim now boasts an increased complement of tech features. Sonata Hybrid standard technology features include an eight-inch touch screen, a six-speaker stereo, Apple CarPlay, Android Auto, Hyundai's BlueLink telemetrics system, USB ports, proximity keyless entry, and dual-zone automatic climate control. On the other hand, the higher trims, SEL and Limited, offer additional features, some of which are:
A 10.25-inch touchscreen with navigation.
Hyundai's dynamic voice recognition system.
A 12-speaker Bose premium stereo.
Wireless device charging.
Ambient interior lighting.
A universal garage door opener.
The Sonata Hybrid's infotainment system is unquestionably high-quality, but, for users who favor a more conventional interface, all trims also include climate and audio function buttons located beneath the main display – old-school users never change!
6
Plenty Of Space For A Long Road Trip With The Family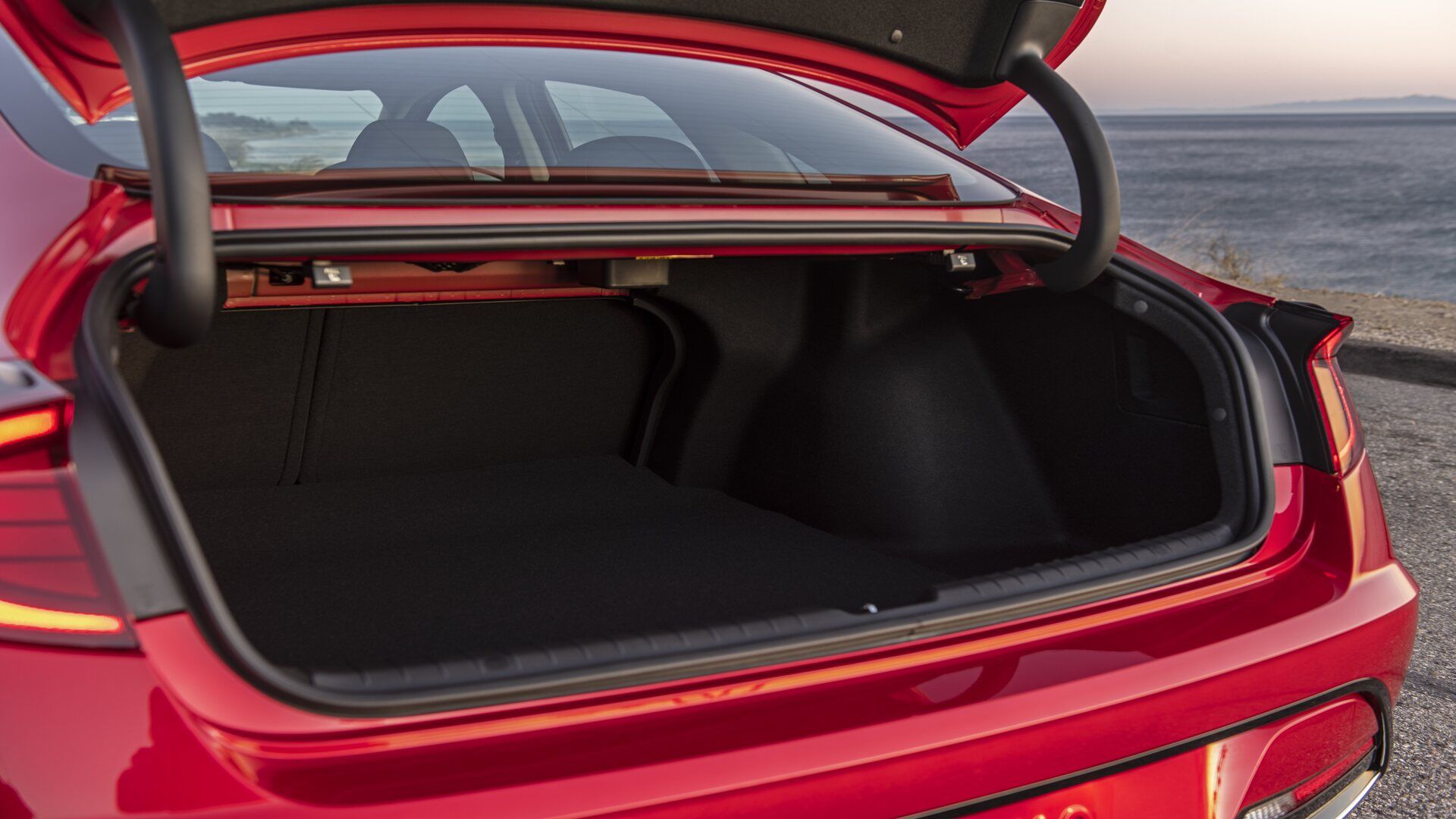 This Hyundai seats up to five people, and the seats seem to be comfortable and supportive, even for long drives. With an estimated cabin space of 104.4 cubic feet, the front seats offer ample room, while the rear row easily accommodates adult passengers. This makes it more spacious than the Toyota Camry or Nissan Altima, some of the Hyundai Hybrid's primary competitors.
Hyundai Sonata Hybrid's Interior Dimensions
| | Front | Rear |
| --- | --- | --- |
| Headroom | 40.0 inches | 38.4 inches |
| Legroom | 46.1 inches | 34.8 inches |
| Shoulder room | 57.9 inches | 56.1 inches |
| Hip room | 54.6 inches | 54.4 inches |
(Data sourced from Hyundai)
Up To 16 Cubic-Feet Of Cargo Space
Rest assured, none of this space is lost to the hybrid battery; that's a big win for those who want to go green without going lean! Regarding cargo space, all trims offer 16 cubic feet, a figure that remains consistent in the 2024 model. As mentioned earlier, the primary differences between the two models are mostly centered on the cabin's available technology and interior design.
Related: Honda Accord Hybrid vs. Hyundai Sonata Hybrid: How They Stack Up Against Each Other
7
It Delivers 52 MPG Combined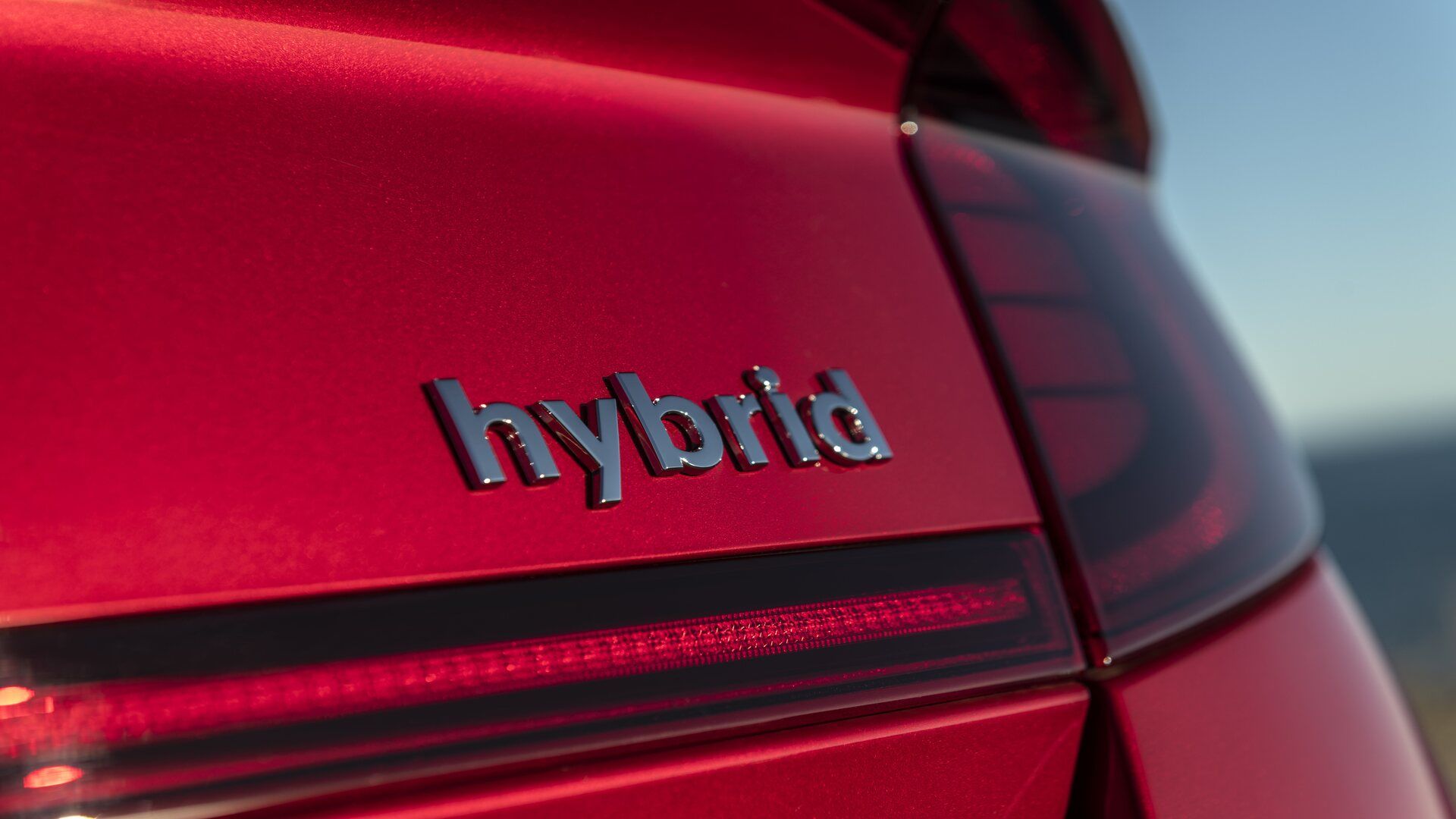 According to EPA estimates, the Sonata Hybrid Blue trim level achieves 50 MPG in the city, and 54 MPG on the highway, thus resulting in an overall combined rating of 52 MPG. On the other hand, both the Sonata Hybrid Limited and SEL are rated at 45 MPG in the city and 51 MPG on the highway, giving them an average of 47 MPG.
For these last trims, with a tank size of 13.2 gallons, this means that a single tank of gasoline can cover a range of 620 miles without refueling, which translates to an average fuel consumption of 2.1 gallons per 100 miles. Consequently, this results in an annual fuel cost of approximately $1,200. It's important to note that these estimates were made assuming an annual mileage of 15,000 miles and based on current fuel prices.
Hyundai Sonata Hybrid's Fuel Economy
| | Blue | SEL | Limited |
| --- | --- | --- | --- |
| City | 50 MPG | 45 MPG | 45 MPG |
| Highway | 54 MPG | 51 MPG | 51 MPG |
| Combined | 52 MPG | 47 MPG | 47 MPG |
(Data sourced from EPA)
8
The Hyundai Sonata Hybrid Is Price Reasonably Well
Starts At $28,450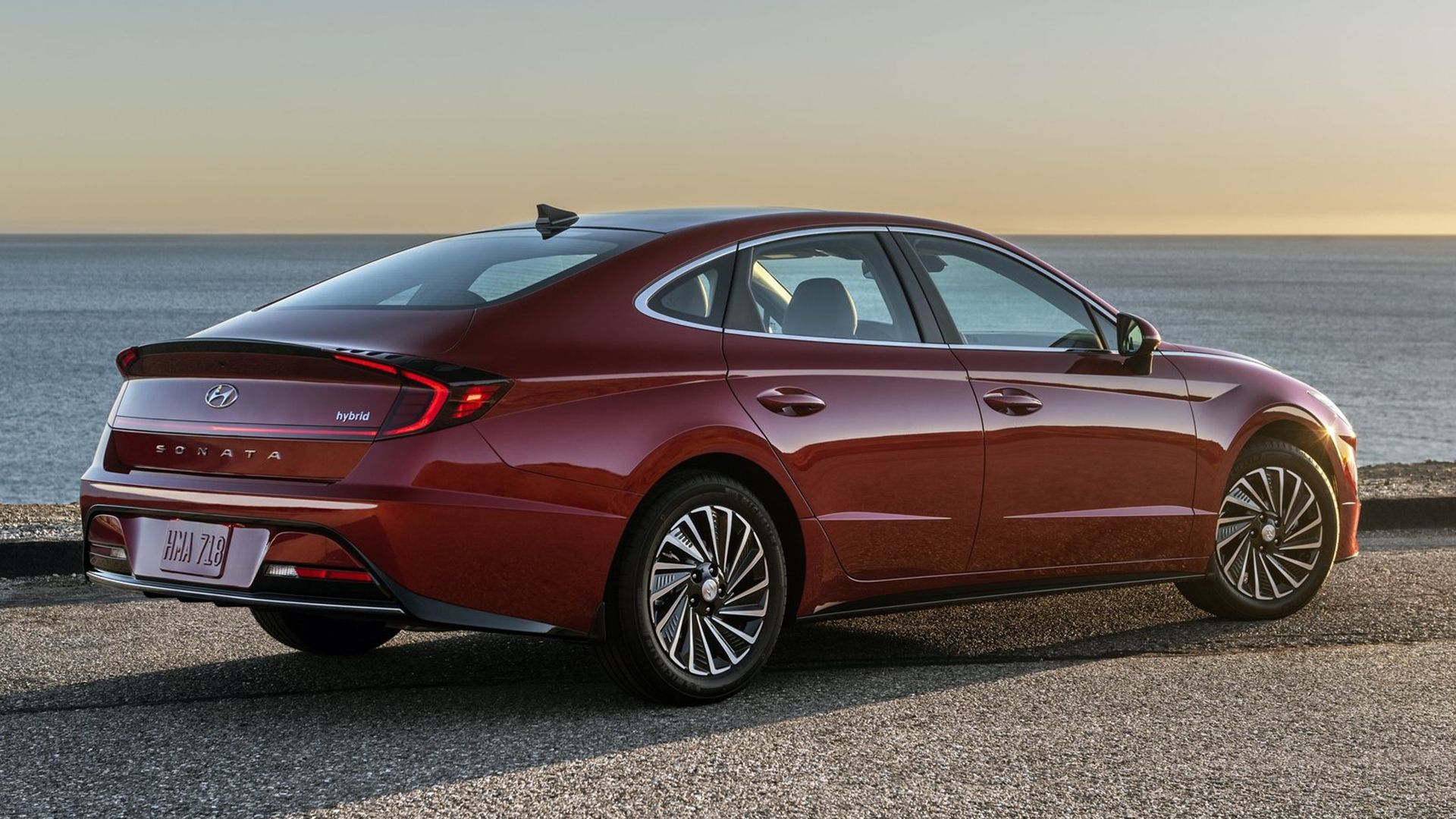 The Hyundai Sonata Hybrid is competitively priced in comparison to its competition. The base trim, the Blue, starts at $28,450, and it includes all the standard features. For a bit more luxury and a higher budget, you can opt for the SEL, priced at $31,800. Finally, the fully equipped Limited model comes in at $36,600. When transitioning from one trim to another, the powertrain remains completely consistent, so it ultimately comes down to personal preferences and available budget.
As a point of reference, the 2022 Toyota Camry Hybrid LE has a starting price of $28,405 and offers nearly identical performance and functionality. In the realm of hybrid vehicles, the Sonata comes out as a worthy option and is an interesting contender to consider.
Hyundai Sonata Hybrid's Prices
| | |
| --- | --- |
| Sonata Hybrid Blue | $28,450 |
| Sonata Hybrid SEL | $31,800 |
| Sonata Hybrid Limited | $36,600 |
(Data sourced from Hyundai)
Related: 10 Things That Make The 2022 Hyundai Sonata Hybrid the Best Family Sedan
9
Advanced Safety And Driver Assistance Features Come As Standard
Every aspect of these midsize sedans is taken into account when it comes to enhancing safety, and the Hyundai Sonata Hybrid is no exception. Some of the safety features include:
Anti-lock brakes:
ABS brakes automatically sense when a tire has stopped rotating under extreme braking, and will modulate the brake pressure to allow the tire to rotate.

Stability control:
It automatically senses when the vehicle's handling limits have been exceeded and reduces engine power and/or applies select brakes to help prevent the driver from losing control of the vehicle.

Airbags:
The car has 9 airbags in place (front impact, side impact, overhead, and knee) in order to safeguard not only the head but also the torso and lower extremities.
Advanced driver assistance is included as a standard feature
Even more important, with the purchase or lease of any Sonata or Sonata Hybrid, advanced driver assistance is standard, which includes:
Forward collision avoidance assist system that has an auto brake and steering assist.
Cameras watch for stopping cars, pedestrians, cyclists, and junction dangers.
Smart cruise control that can start and stop to match traffic.
Emergency braking assist.
Blind spot monitoring.
Safe exit warning and rear occupant alert.
10
The Hyundai Sonata Hybrid Is Well-Positioned Against Its Competitors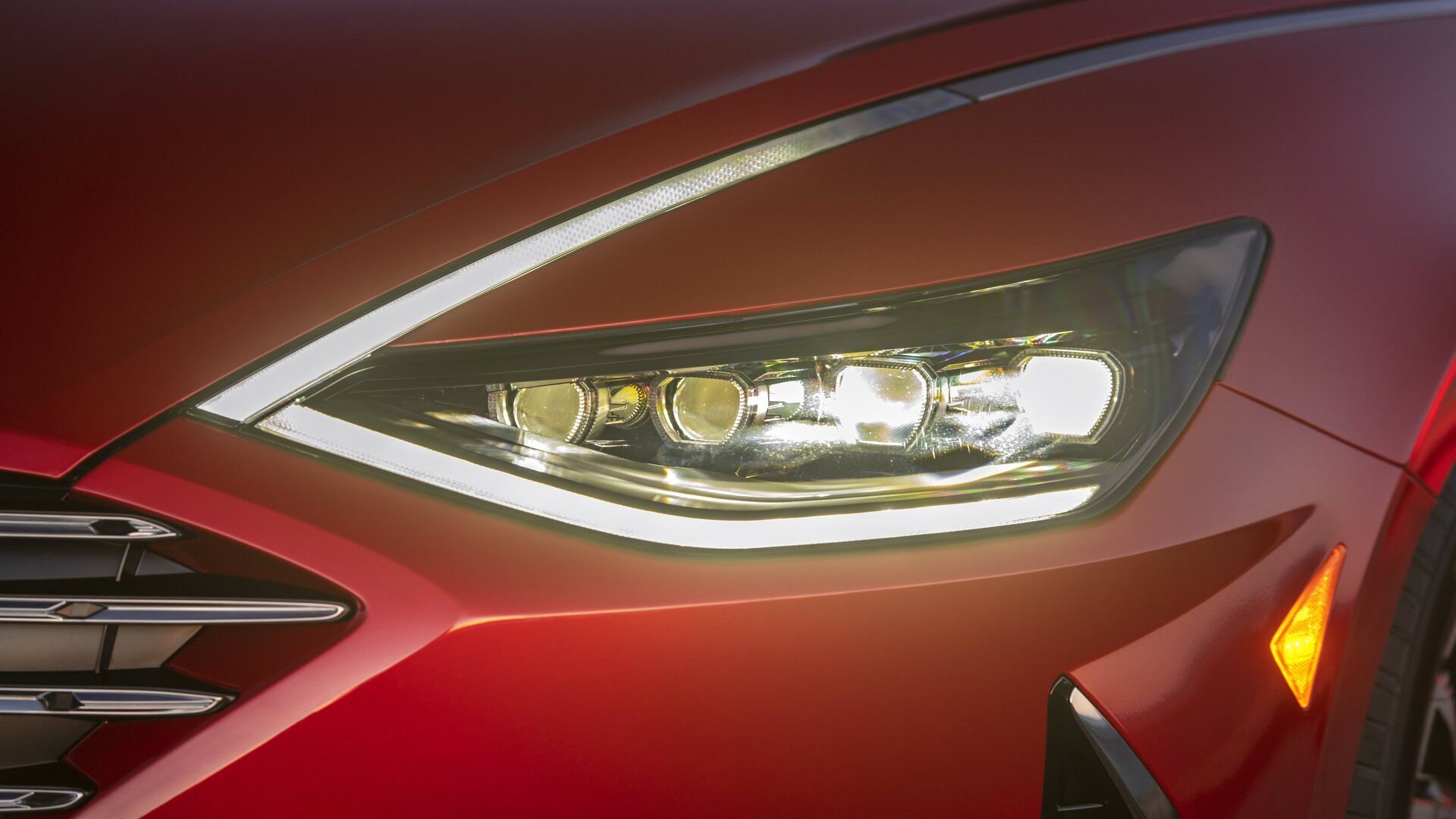 The primary competitors of the Hyundai Sonata Hybrid include the Nissan Altima, the Kia K5, and the Toyota Camry. Overall, their characteristics, performance, and functionality are quite similar, with virtually no discernible differences.
A similar scenario unfolds when examining the pricing; while the Hyundai Sonata Hybrid SE is priced at $25,100, the Toyota has a very similar price of $28,405. On the other hand, the Kia K5 and Nissan set themselves a little apart with slightly lower prices of $23,790 and $25,490 respectively.
Hyundai Sonata Hybrid vs. Competition
| | Hyundai Sonata Hybrid Blue | Nissan Altima 2.5 S Sedan | Kia K5 LX Automatic FWD | Toyota Camry Hybrid LE |
| --- | --- | --- | --- | --- |
| Horsepower | 192 HP | 188 HP | 180 HP | 203 HP |
| Torque | 151 lb-ft | 180 lb-ft | 195 lb-ft | 184 lb-ft |
| Driveline | FWD | FWD | FWD | FWD |
| 0-62 mph | 7.3 seconds | 8 seconds | 7.7 seconds | 7.5 seconds |
| Top speed | 135 mph | 130 mph | 132 mph | 134 mph |
| Fuel economy | 50 MPG City / 54 MPG Hwy | 27 MPG City / 39 MPG Hwy | 29 MPG City / 38 MPG Hwy | 51 MPG City / 53 MPG Hwy |
(Data sourced from Hyundai, Nissan, Kia, and Toyota)
Nonetheless, these vehicles, whether hybrid or not, deliver almost identical performance so, when making a purchase decision, other factors such as technology, interior design, and exterior appearance should be taken into account, as well as the price and if they're hybrid or not.
#Hyundai #Sonata #Hybrid