Summary
Key Takeaways:
The 2024 Toyota Land Cruiser and Lexus GX have moved away from V-8 engines and now offer smaller turbocharged engines, with the Land Cruiser available as a hybrid.
The Lexus GX has a more luxurious interior compared to the Land Cruiser, with premium features and materials.
The Land Cruiser and Lexus GX have similar interior space and dimensions, but the Land Cruiser has a smaller cargo capacity due to the hybrid battery.
Toyota and Lexus started announcing a lot of new vehicles lately which has grabbed a lot of attention from the car world. A new vehicle from either Lexus or Toyota is to be celebrated because they do not come very often. They have a history of making a model which would likely last more than a decade before it is replaced.
One of these all-new cars is the Lexus GX which wasn't a surprise as we expected it since Lexus introduced a new LX. But the biggest surprise is an all-new Land Cruiser for the North American market. The J300 Land Cruiser is not sold in North America, so Toyota remedied that with another new Land Cruiser. Despite being siblings, the 2024 Land Cruiser and Lexus GX do have a lot of differences.
| | 2024 Toyota Land Cruiser | 2024 Lexus GX |
| --- | --- | --- |
| Engine: | 2.4-liter turbo inline-four hybrid | 3.4 liter twin turbo V-6 |
| Horsepower | 326 Horsepower | 349 Horsepower |
| Torque | 465 LB-FT | 429 pound-feet |
| Transmission | 8-speed automatic | 10-speed automatic |
| Driveline | Four-wheel drive | Four-wheel drive |
| Towing Capacity | 6,000 pounds | 8,000 pounds |
| MSRP | NA (est. $55,000) | $60,000 (est) |
Information for this article was sourced directly from Toyota and Lexus
Related: Why Lexus Cars Are Worth The Premium Over Toyota
Performance: Hybrid I-4 Vs Twin turbo V-6
The 2024 Toyota Land Cruiser and Lexus GX have undergone drastic changes in terms of their engine choices. Both vehicles no longer offer a V-8 engine but now come with smaller turbocharged engines. The Lexus GX gets the new twin-turbo V-6 engine which is now well-known across many new Toyota trucks and SUVs. On the other hand, the Land Cruiser only comes with an inline-four turbo hybrid engine.
The New Land Cruiser Has A Hybrid Engine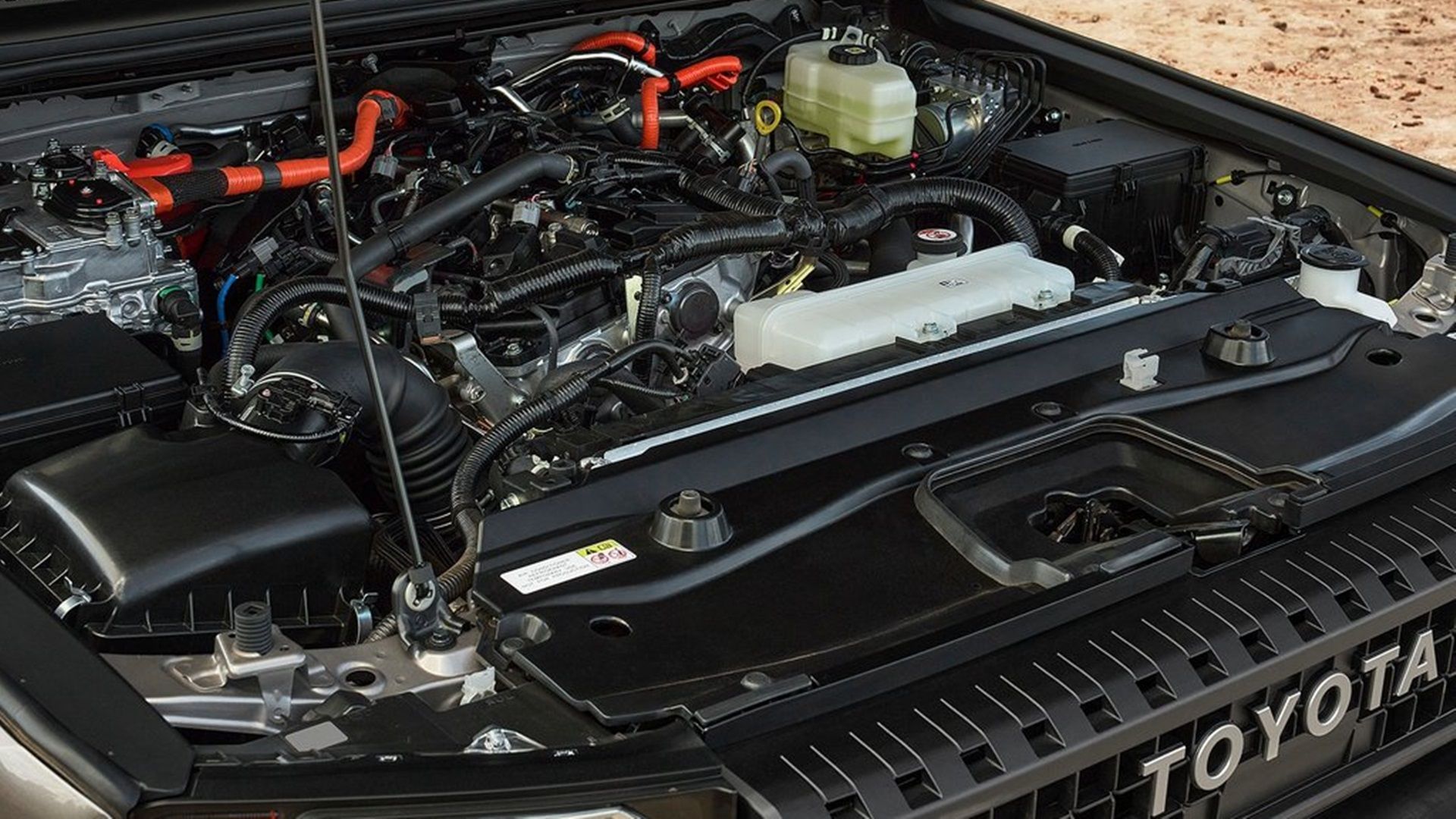 Land Cruiser enthusiasts would not be too surprised that the 2024 Land Cruiser has an inline-four engine. The size of this new SUV is similar to a Land Cruiser Prado than a full-size Land Cruiser. Land Cruiser Prados mainly offered four-cylinder engines and this new Land Cruiser being smaller, has a four-cylinder engine.
This time the inline-four is a turbocharged hybrid unit that makes 326 horsepower and 465 pound-feet of torque. This sends power to a full-time four-wheel drive system via a new eight-speed automatic transmission. While other engine options are available, this is the only engine option for North America.
The Twin-turbo V-6 Is More Powerful Than The Former V-8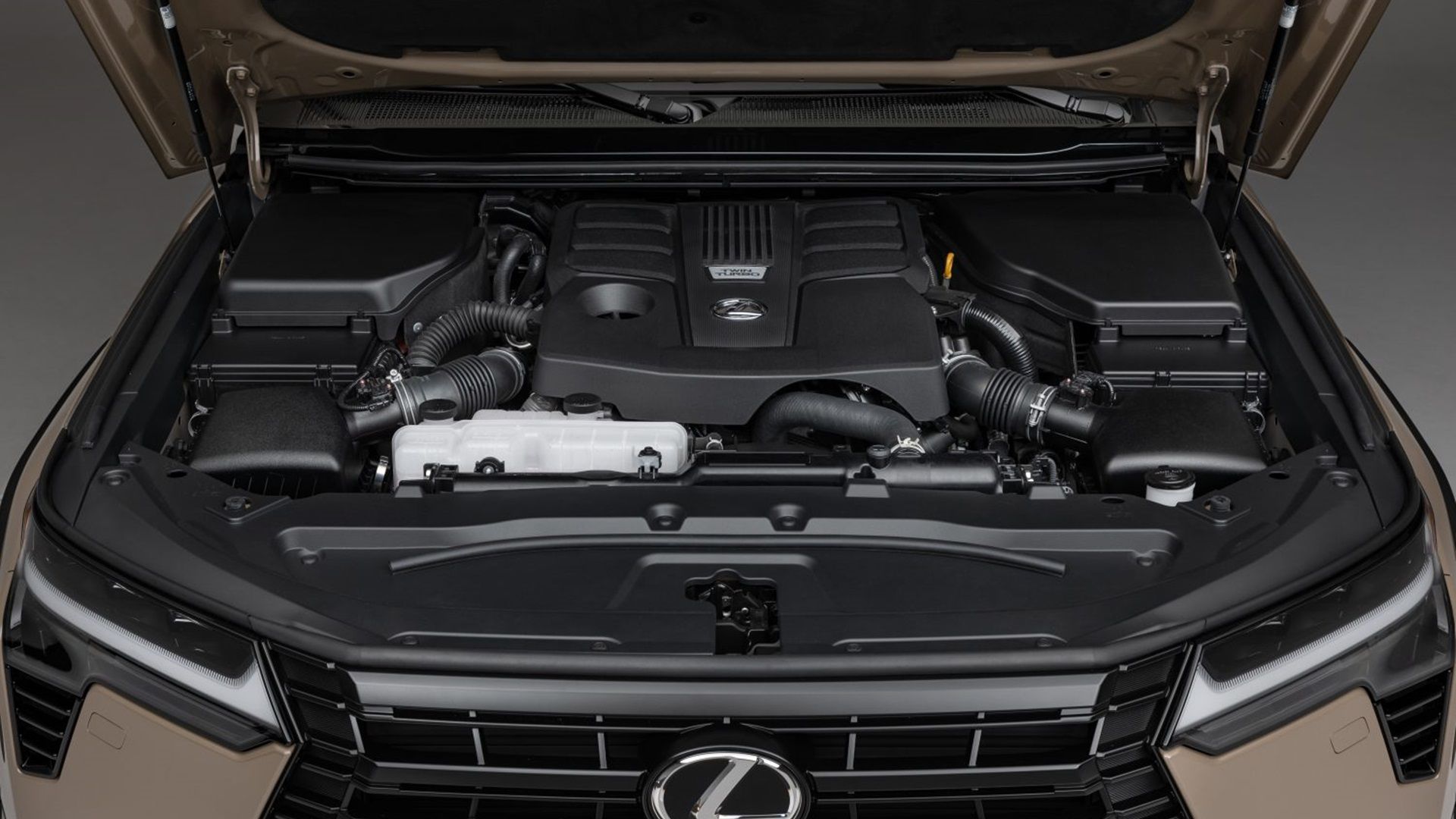 The new twin-turbo V-6 was first shown in the 2022 Toyota Land Cruiser and has made its way into the new Lexus GX. It produces 349 horsepower and 429 pound-feet of torque. This is more power and way more torque than the previous V-8 in the GX. A new ten-speed automatic transmission replaces the old Six-speed and sends power through a full-time four-wheel drive system.
Fuel Economy
Fuel economy in the V-8-powered Land cruisers and Lexus GXs was not great as these vehicles were also big and heavy. The best was a combined 16 MPG for the Lexus GX and a worse 14 MPG for the Land Cruiser. The new Land Cruiser and Lexus GX Are so new so there are no official EPA ratings yet.
Performance Specifications
| Vehicle | Toyota Land Cruiser | Lexus GX |
| --- | --- | --- |
| Engine | 2.4-liter turbo hybrid I-4 | 3.4-liter twin-turbo V-6 |
| Power | 326 horsepower | 349 horsepower |
| Torque | 465 pound-feet | 479 pound-feet |
| Transmission | Eight-speed auto | Ten-speed auto |
| Drivetrain | Four-wheel drive | Four-wheel drive |
(Sourced from Lexus and Toyota)
RELATED: Why Lexus Isn't Just A Posh Toyota
Interior Design And Technology
The Toyota Land Cruiser maintains Toyota's reputation for a well-built and functional interior and now has a lot of new features. Lexus has always had a more luxurious interior compared to its Toyota counterparts. The new Lexus GX reflects this with a solid but premium feeling interior.
The Lexus GX Has A More Luxurious Interior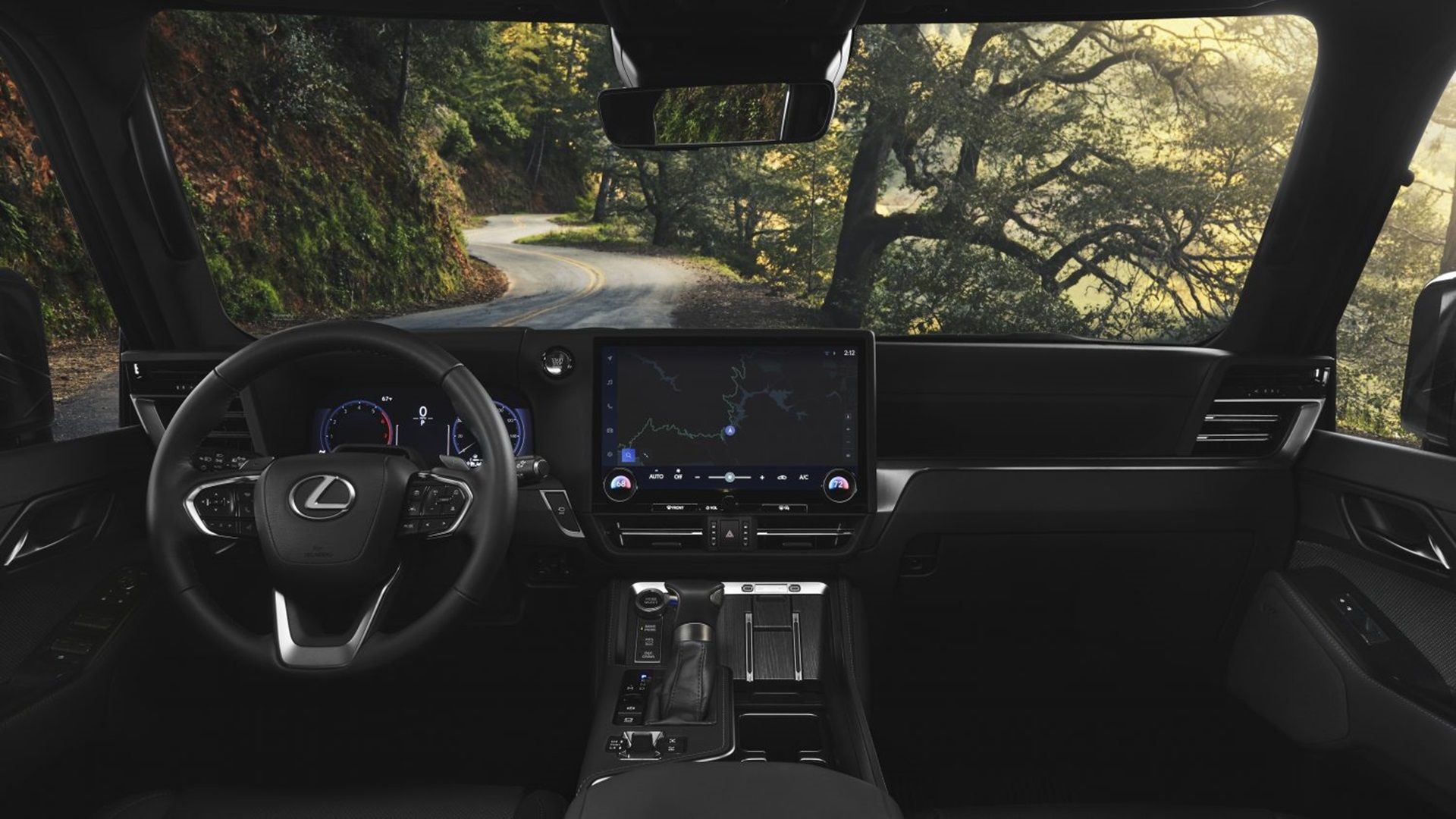 The Land Cruiser looks very much updated with the latest technology inside the cabin. Everything is well laid out with two 12-inch and 12.3-inch screens in view, one for the instrument cluster and another for the center infotainment. The 1958 edition Land Cruiser is the only model that comes with an eight-inch infotainment display. Some nice features include:
Heads up Display
Heated steering wheel and seats
Center console cool box (optional)
Front and rear USB Charging ports
Wireless charging pad Smart key system.
2400W inverter in the trunk that can be used to power small appliances.
14-speaker JBL Sound system (optional).
Power Liftgate
The Lexus GX is a much premium feeling and cleaner-looking interior. It gets a slightly bigger 12.3-inch instrument cluster but a much bigger 14-inch center infotainment screen. Wireless Apple CarPlay and Android Auto are available for this model. Since this is a luxury vehicle, soft Leather material is also used on almost every surface. It offers many of the features found on the Land Cruiser except the power inverter.
Interior Room And Cargo Capacity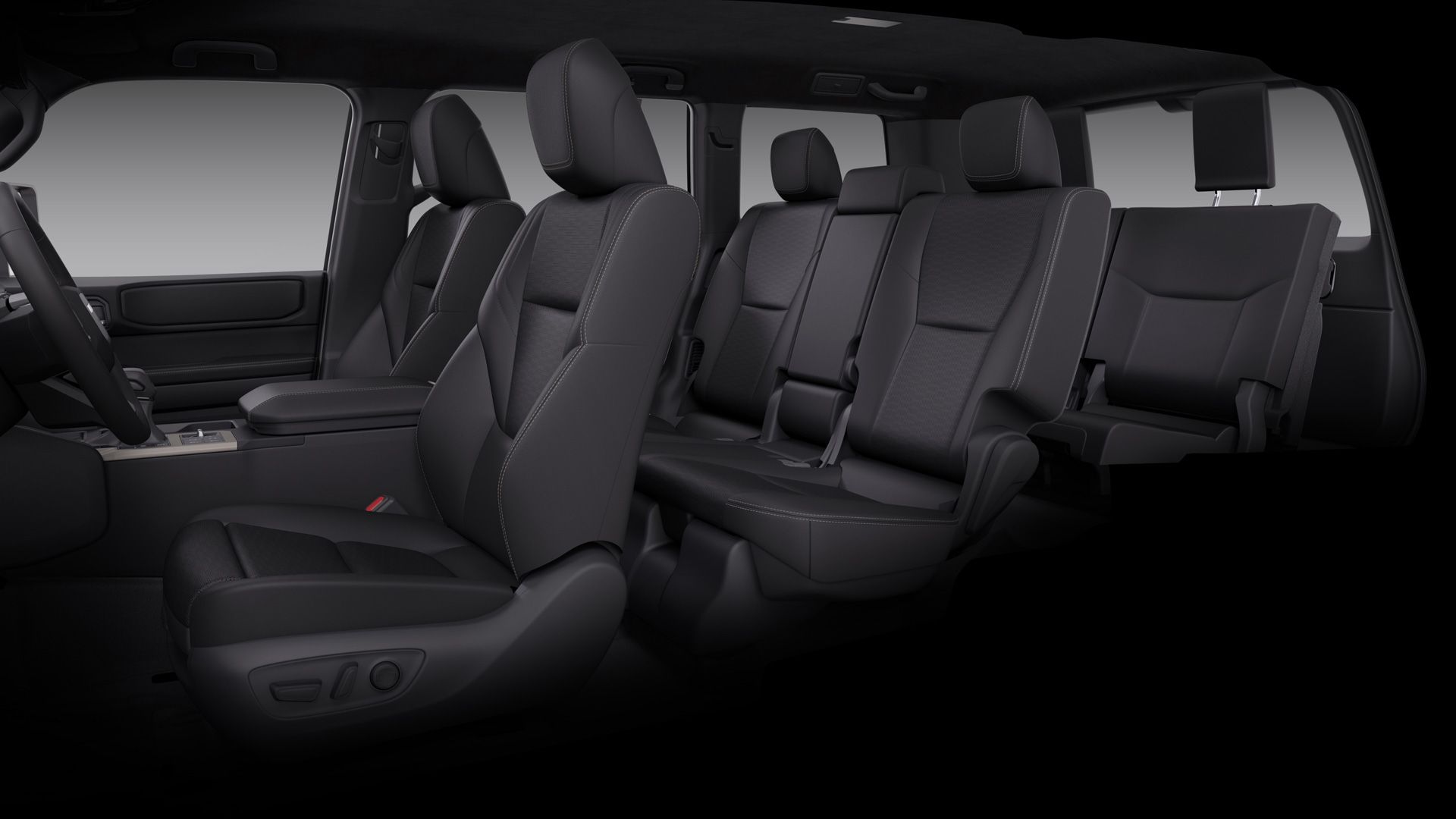 The Land Cruiser shares the same TNGA-F platform as the Lexus GX with similar lengths and an identical wheelbase. This means both vehicles offer similar interior space with seating for five people as standard. The Lexus GX has the option of a three-row with the option of captain's chairs in the second row.
Toyota says the Land Cruiser may have a three-row option later. Cargo space in the Land Cruiser is less than the GX because of the hybrid battery in the trunk. This takes up a good amount of space and will also rob space for three-row passengers. This may very well be the reason the Land Cruiser isn't offered with three rows immediately.
Exterior Dimensions
| Vehicle | Toyota Land Cruiser | Lexus GX |
| --- | --- | --- |
| Length | 193.7 inches | 194.9 inches |
| Wheelbase | 112.2 inches | 112.2inches |
| Width | inches | 78 inches |
| Height | 73.2 inches | 73.4 inches |
| Wheel size | 18-inch | 20-inch |
| Approach Angle | 31 degrees | 26 degrees |
| Breakover Angle | 25 degrees | 23 degrees |
| Departure Angle | 22 degrees | 21 degrees |
| Towing capacity | 6,000 pounds | 8,000 pounds |
RELATED: 2024 Lexus GX Is A BOLD New Take On The Luxury Off-Roader Formula
Safety & Reliability
The Lexus GX and Toyota Land Cruiser are so new that there are no safety ratings for them yet. But they are equipped with the latest Safety Sense 3.0 system which is standard on the GX and Land Cruiser. These active and safety convenience systems have been improved for this model year and they include:
Pre-Collision System with Pedestrian Detection
Lane Departure Alert with Steering Assist
Full-Speed Range Dynamic Radar Cruise Control
Lane Tracing Assist
Road Sign Assist
Automatic High Beams
Proactive Driving Assist
2024 Toyota Land Cruiser Crash Test
Not available yet
2024 Lexus GX Crash Test
Not Available yet
Reliability Comparison
Toyota and Lexus share a lot of parts since they're owned by the same parent company. Reliability has always been a strong point for any Toyota product and we expect these to be just as reliable as the rest. But both vehicles have all-new powertrain which have not been tested extensively by consumers, so we have to wait to see how reliable these new powertrains will be. But both cars still come with Toyota's amazing warranty:
Toyota/Lexus warranty
| | |
| --- | --- |
| Full Warranty | 3 years/36,000 miles |
| Powertrain Warranty | 5 years/60,000 miles |
| Maintenance Warranty | 2 years/25,000 miles |
| Roadside Warranty | 2 years/unlimited miles |
| Corrosion Warranty | 5 years/unlimited miles |
At the time of writing this article, both vehicles have not gone on sale yet.
RELATED: 10 Reliable Used SUVs That Will Last You A Lifetime
Pricing And Availability
The outgoing Land Cruiser was becoming a very expensive vehicle at prices well over $90,000 and the previous GX was more reasonable at just over $60,000. There are no official prices but the new GX is expected to start around the same price as the previous vehicle. It's the Land Cruiser that has taken a huge price drop now expected to start around $55,000. Both SUVs are expected to start arriving in the first quarter of 2024.
Toyota Land Cruiser:
| Trim | Price |
| --- | --- |
| Land Cruiser 1958 | $55,000 (est) |
| Land Cruiser | $60,000 (est) |
| Land Cruiser First Edition | $65,000 (est) |
(Source: Car & Driver)
Lexus GX:
| Trim | Price |
| --- | --- |
| Premium | $60,000 (est) |
| Premium+ | $65,000 (est) |
| Luxury | $70,000 (est) |
| Luxury+ | $75,000 (est) |
| Overtrail | $75,000 (est) |
| Overtrail+ | $80,000 (est) |
(Source: Car & Driver)
#Toyota #Land #Cruiser #Lexus