After a long history of producing cars for the American market that are a cheap pallid imitation of what they once offered. No, the Jetta is still not that the one we loved. And the Passat looked as if it were built for Communist officials, not Americans. Yet it seems as if Volkswagen is finally getting the message.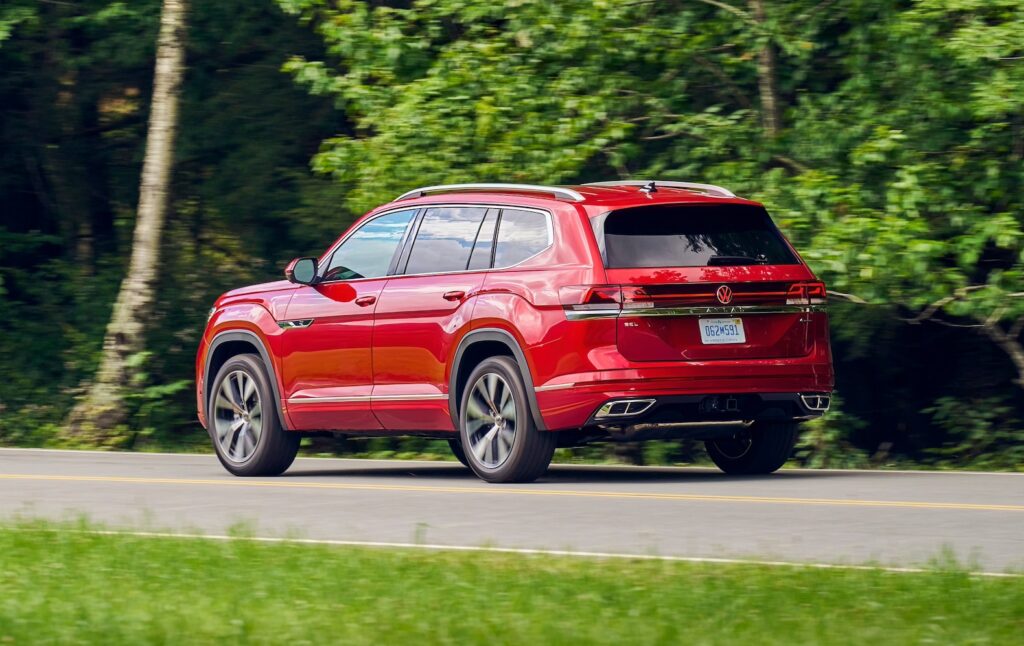 But the release of the Volkswagen Atlas in 2017, a three-row SUV about the size of the Ford Explorer quickly became Volkswagen's best-selling car in the United States. It seemed as if the automaker was finally figuring out the American consumer after seven decades in the market. Still, it suffered from a stark interior awash in cheap, hard plastic, one that's banished by its extensive 2024 makeover. The Atlas is finally coming into its own.
The 2024 Volkswagen Atlas retails its classic, conservative broad-shouldered demeanor, lending it an underlying visual strength. But it now boasts modern adaptive front lighting with LED headlights and an illuminated logo in the center of a redesigned grille. The rear also sees revised rear lighting.
But it's the cabin that marks the change, as designers filled it with soft-touch materials and better-quality finishes. And there are additional standard niceties, including automatic climate control, a heated steering wheel, ventilated front seats, a height-adjustable passenger seat and voice control for vehicle functions. You can even opt for quilted leather seats and ambient lighting.
The instrument panel has been redesigned with a more sculptural feel. It features a 10.25-inch digital instrument cluster, and is anchored by a 12-inch touchscreen. There's standard wireless charging, six USB-C ports with 45-watt fast charging, wireless Apple CarPlay, Android Auto and MirrorLink. But volume and tuning knobs have disappeared. Ditto a traditional transmission shifter. Since the Atlas now uses shift-by-wire, the space beneath the center console is perfect for stowing handbags or computer bags.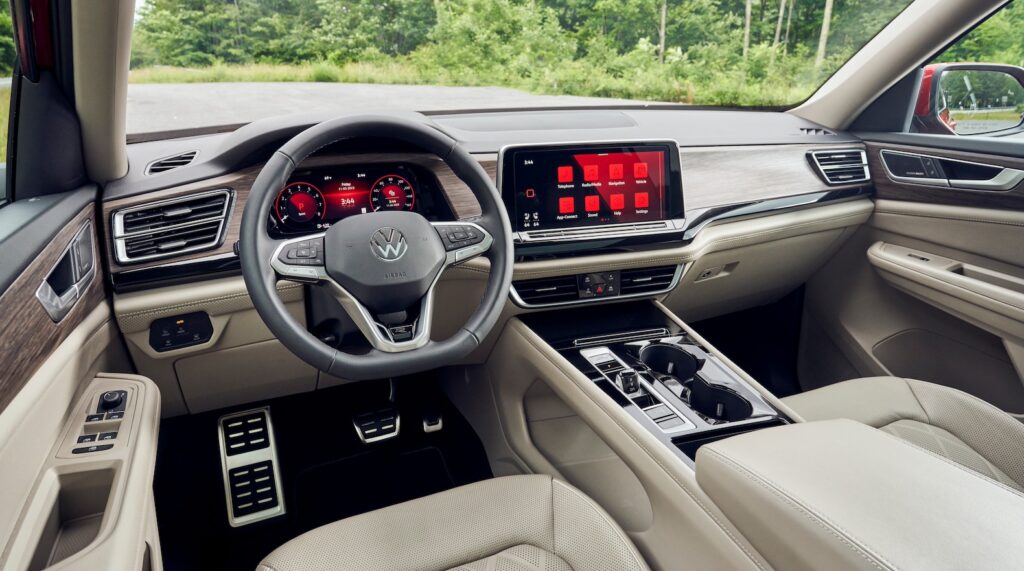 Yet it's the roomy cabin that remains its big selling point, where adults can comfortably fit in all three rows. And even with all seats occupied, there's still a generous 20.6 cubic feet of cargo space, expanding to 96.6 cubic feet with both rows folded. Payload is rated at 1,091 pounds on front-wheel-drive models, 1,135 for all-wheel drive models.
All Atlas models are powered by a new turbocharged, intercooled, 16-valve 2.0-liter DOHC four-cylinder engine married to an 8-speed automatic transmission. It produces 269 horsepower and 273 pound-feet of torque. That's less horsepower than the last year's VR6, but 28% more torque, reducing 0-60 mph runs. All-wheel drive is available on all trim levels, with front-wheel drive offered on SE and SE with Tech trims. Towing capacity is rated at 5,000 pounds for all models and all but the base SE get a standard tow hitch.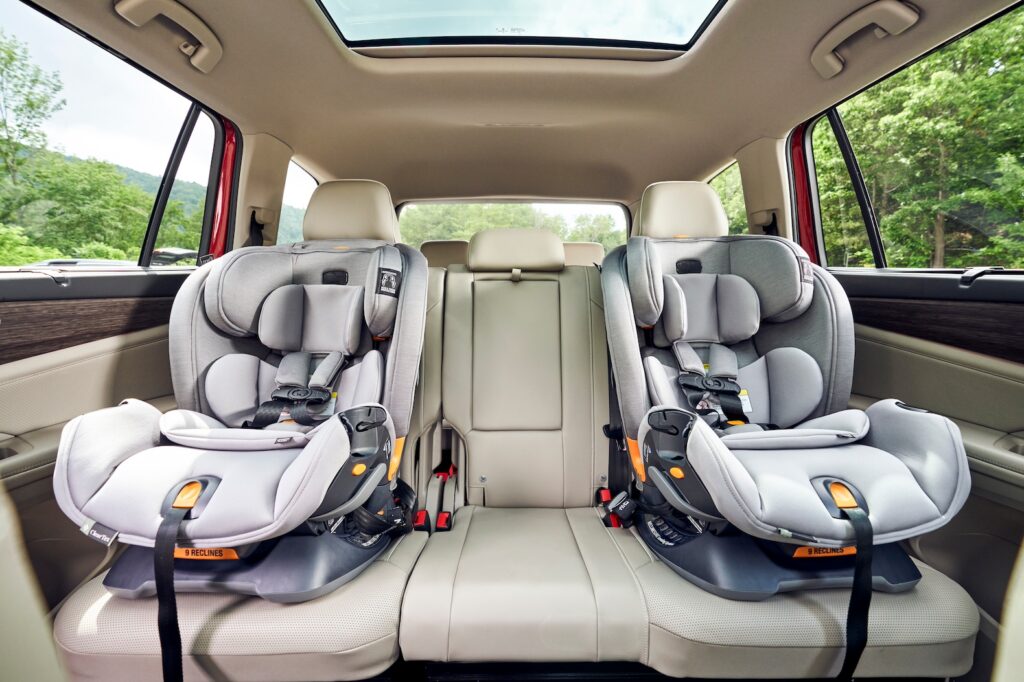 Smooth, quiet and refined, without a trace of vibration, the four-cylinder engine acts the part of a larger powerplant, supplying the requisite oomph when traversing hill and dale. It only proves intrusive when cruising in the sport driving mode. Then, a distant growl alerts you to its more assertive intentions. Wind and road noise are noticeably absent.
Stable and assured, the Atlas ably soaks up the rough stuff with an absorbent, well-controlled ride. But it does display more body rebound over the bumps than its two-row sibling, the Atlas Cross Sport, while its longer length makes it a bit less tossable. If you require athleticism more than room, the smaller two-row Atlas Cross Sport is your better bet.
But the changes bring a much-needed dose of refinement and civility to a vehicle that no long seems as if it's designed by some parsimonious accountant. Spacious and stoic, it's a fine family vehicle, a beautifully balanced SUV that seems large enough to carry the whole world. 
Maybe that's why it's called the Atlas.
#Volkswagen #Atlas #Review #Updates #Render #Fine #Family #Hauler