Summary
Minivans like the 2024 Kia Carnival offer ample cargo and passenger volume at a reasonable price point, making them a practical choice for families.
The Carnival's versatile cabin and customizable interior layout allow for various seating and storage configurations to accommodate different needs.
The Carnival's V6 engine provides decent power, while its well-balanced ride quality and comfortable interior make it a comfortable and enjoyable vehicle to drive.
When it comes to outright practicality and value, Minivans continue to outdo most popular SUVs and crossovers. The allure of a minivan usually attracts those more family-oriented buyers, rather than the explorative types. Cargo and comfort are important factors when determining the perfect family chariot for you. But there are also a host of other factors that can make certain models stand out in the crowd of minivans.
Such models include the Honda Odyssey, Chrysler Pacifica, and Toyota Sienna as they offer ample cargo and passenger volume while maintaining a reasonable price point. These minivans, as well as other current options, feature the latest in technology, driver assist features, and entertainment capabilities, adding to the value of the vehicle as a whole. Still, if you want the best value for your money, best-in-class warranty, and a plethora of driver safety and amenities, look no further than the 2024 Kia Carnival.
Kia's Telluride was a runaway hit, elevating the Korean brand to the ranks of well-known utility vehicle names. The 2024 Carnival minivan starts at $34,565 and sports a similar appearance to the popular mid-size SUV companion including a box-style front end and muscular body features, capitalizing on the booming SUV market while maintaining an unbeatable price point. Further, separating it from the latest options is its versatile cabin, which allows the Carnival to configure the second and third-row seating to accommodate almost any need. This paired with the low load floor and high roof gives the 2024 Kia Carnival's cabin a cavernous quality, making it a compelling minivan option.
We've sourced info from consumer reports, KBB, Kia, Motor Trend, and Car And Driver to put together this feature on the 2024 Kia Carnival and Telluride.
RELATED: 2023 Kia Carnival Review: Your Excuse To Ditch The SUV Craze
2024 Kia Carnival's Interior Comfort And Safety Tech
The 2024 Kia Carnival is offered across four trims, the LX, EX, SX, and SX Prestige, each offering specific upgrades in functions or features. The base model LX starts at $34,565 and features standard amenities such as 14 driver assist functions and heated front seats. All models boast that cavernous cabin. Though not top dog when it comes to third-row passenger space, a total of 167 cubic-feet of front and back passenger volume, and 40 cubic feet of rear cargo volume, 145.1 cubic-feet if second row is removed and third row folded down, put it head of its class in cargo space.
2024 Kia Carnival Passenger Space Specs
| | |
| --- | --- |
| Head Room: 1st,2nd,3rd rows (inches) | 40.9 / 39.5 / 38.6 |
| Shoulder Room: 1st,2nd,3rd rows (inches) | 64.2 / 63.2 / 59.4 |
| Hip Room: 1st,2nd,3rd rows (inches) | 59.6 / 66.4 / 50.4 |
| Leg Room: 1st,2nd,3rd rows (inches) | 41.1 / 40.5 / 35.6 |
(Cargo specs sourced from Kia)
The interior layout options are as versatile as their configurations, offering two infotainment display options and various upholstery material and color options. The customizability offered by the Kia Carnival allows buyers to build their ideal aesthetic and layout to accommodate their onboard needs and personal preferences.
The Carnival is loaded with driver safety features and creature comforts that come standard and some that are optional upgrades. An 8.0-inch touchscreen display is standard on the 2024 Carnival, but a 12.3-inch Mercedes-style dual-screen display is an optional upgrade. The 2024 Telluride features the 12.3-inch touchscreen standard across all trim levels. The infotainment system on both vehicles features standard Apple CarPlay and Android Auto as well as subscription-based Wi-Fi hotspot capability.
The 2024 Carnival's interior shares many of the capabilities and quality of the Telluride SUV, furthering Kia's value-packed line of utility vehicles. The higher trim SX Prestige features an upgraded rear passenger entertainment setup and 12-speaker Bose sound system, as well as second-row MVP seats that transform the second-row seating into reclining bucket seats. Though the MVP seating is quite comfortable, they do not remove or fold down, interfering with the maximum cargo capacity.
The 2024 Carnival and Telluride offer the option between SynTex or premium leather upholstery that can be applied in several contemporary colors. Comfortable seating with power adjustable movement makes for a well-accommodated experience in town and on long road trips.
The Kia Carnival utilizes a handy feature called flex-seating, which allows the second-row middle seat to slide forward, giving easy access to the front-row passenger. It can also fold into a table for the second and third-row passengers to enjoy a meal or a board game. The entire second row is removable, and the third row can fold down onto the floor, maximizing the total cargo area.
Kia's Notable Safety And Driver Assist Features
Blind spot monitor
Forward collision avoidance assist
Smart cruise control w/ stop & go
Highway drive assist
Surround view monitor
Safe exit assist
RELATED: Is A Three-Row SUV Better Than A Minivan?
The Carnival Boasts A Peppy V-6 Engine And Excellent Ride Quality
Kia has stated that the Carnival is more than a minivan, instead calling it an MPV, or multi-purpose vehicle, for the uninitiated. This name fits as the appearance of the Carnival draws heavily from the design of modern sports utility vehicles such as the aforementioned Telluride. However, the Carnival doesn't boast the terrain capabilities of an SUV, instead focusing on cargo area and respectable towing capabilities.
The 2024 Carnival is motivated by a naturally aspirated 3.5-liter V-6 that churns out 290 horsepower and 262 pound-feet of torque. While that may not be enough to outrun anyone at the lights, it's enough to carry the minivan from 0-60 MPH in 7.0 seconds. The naturally aspirated V-6 powers a standard eight-speed automatic transmission on all models.
2024 Kia Carnival Specs
| | |
| --- | --- |
| Engine | Naturally aspirated 3.5-liter V-6 |
| Horsepower | 290 |
| Torque | 262 Pound-Feet |
| 0-60 MPH | 7.0-Seconds |
| Passenger Volume(SAE) | Min/Max: 40.2 Cubic-Inches/145.1 Cubic-inches |
| Driveline | Front-engine, front-wheel drive, four-door, eight-passenger minivan, eight-speed automatic transmission |
(Specs sourced from Kia)
A drawback noted among minivan buyers, specifically about the Carnival, is that there is no option for all-wheel drive. The Carnival comes standard with front-wheel drive on all models. However, the V-6 and a pair of suitable tires can help with traction loss in slippery or snowy conditions. There also isn't a hybrid option, unlike the Toyota Sienna and Chrysler Pacifica. The lack of an electrified variant is another noted miss by Kia.
The 2024 Kia Carnival's naturally aspirated V-6 engine should make the minivan feel quick, while the well-balanced ride quality maintains composure when cornering. Cruising is where the Carnival should shine comfortably, giving it a chance to lull passengers with the smooth suspension and quiet cabin.
RELATED: Battle of the Hybrid Minivans: Chrysler Pacifica vs Toyota Sienna
How The Similarly Priced-Telluride SUV Stacks Up Against The Carnival
The mid-size SUV class has been all but ruled by the Telluride. The mainstream starting price of $37,355, combined with Kia's comprehensive suite of safety and driver assist, as well as its terrain capabilities make it a compelling buy for families that enjoy the occasional adventure. Many of the amenities found in the Carnival can also be found in the Telluride, though some aspects of the cabin and exterior layout are unique to each.
The 2024 Telluride features a naturally aspirated V-6 that makes 291 horsepower and 262 pound-feet of torque. That's enough to carry the mid-size SUV from 0-60 MPH in 6.8 seconds. Note that the naturally aspirated V-6 in the Carnival makes 290 horses and allows the big MPV to sprint from 0-60 MPH in 7.0 seconds.
Performance-wise, these two family vehicles differ in that the Carnival is focused on comfortable travel, while the Telluride injects a sense of adventure and sport into Kia's three-row options. Along with boasting a tow rate of 5,500 pounds, the Telluride offers up to 8.4 inches of ground clearance and can be optioned with all-wheel drive, making it better equipped for moderate excursions and off-roading.
RELATED: 5 Reasons To Buy The Kia Telluride (And, 5 Reasons Why You Should Stay Away)
Best-In-Class Accolades And Unrivaled Value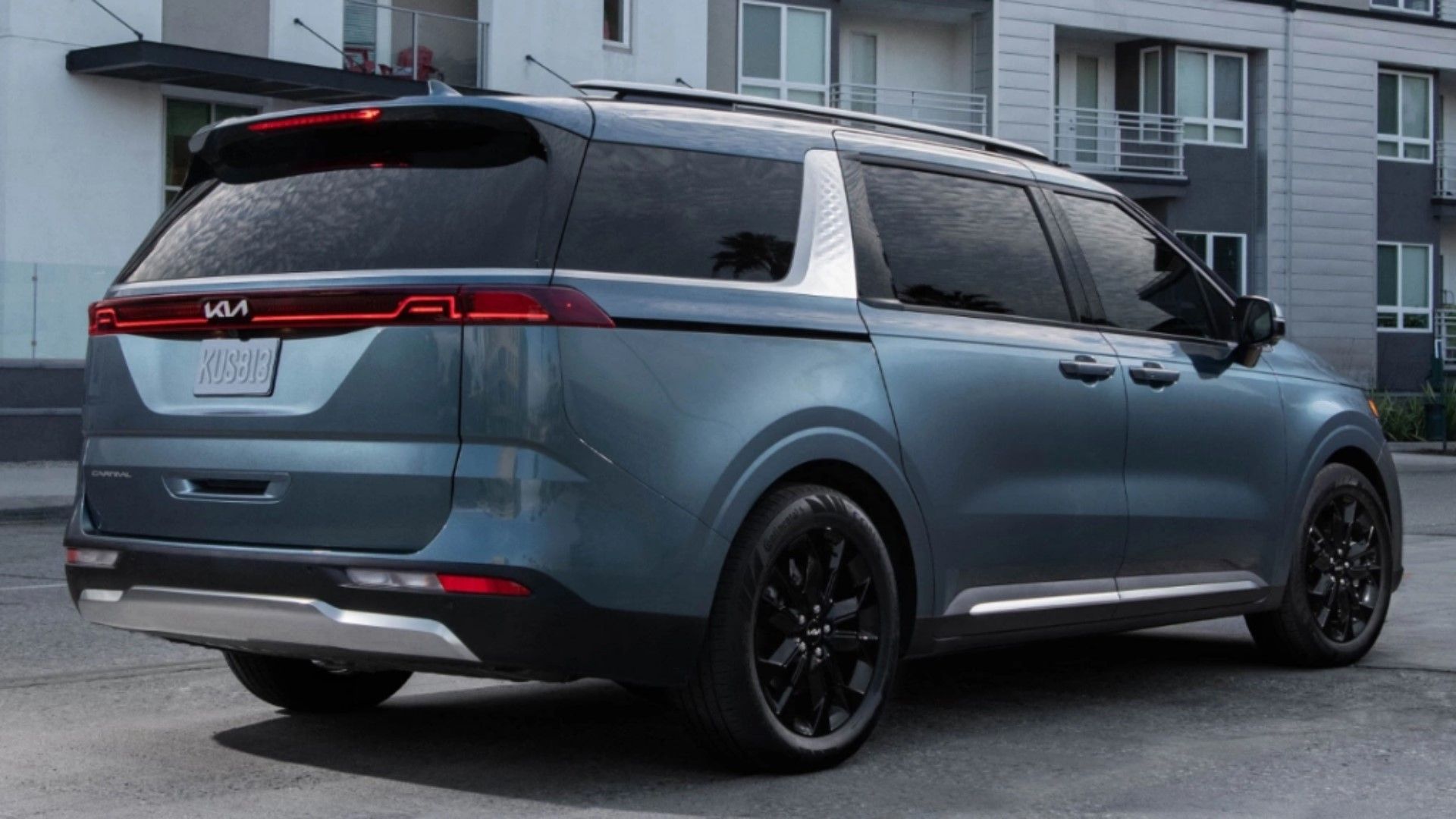 As stated before, the Kia Carnival's body design draws from the SUV body, sporting boxy edges and an upright front end. The wide-shouldered stance and masculine contouring add to the I'm-not-a-minivan appeal that the Carnival thrives on. 19-inch machine-finished wheels also assert the commanding appearance displayed by the Carnival, allowing it to call itself a real MVP… or, MPV (multi-purpose vehicle).
The value, practicality, and comfort offered by the 2024 Kia Carnival are unrivaled in terms of modern minivans and what they can provide. With a starting price undercutting its top competitors, standard safety features, and quality interior materials and amenities, the Carnival combines the best of what the minivan offers in a package that people want to drive.
Even when compared to the Telluride, the Carnival, which boasts a lower starting MSRP stands firm with its current available options; not to mention the 2024 Telluride received a price bump across the board, another thing to note when comparing the two Kias.
Total Cargo Volume Of Top Minivan Options In 2023
2024 Kia Carnival – 145.1 cubic-feet
2023 Honda Odyssey – 144.9 cubic feet
2024 Chrysler Pacifica – 140.5 cubic-feet
Before we get too drawn in by the SUV-style appearance and standard features, let's not forget the best-in-class cargo and best-in-class warranty. Both of those accolades can greatly inspire a buyer to buy a Kia Carnival. Though no hybrid or all-wheel drive options are available, the 2024 Carnival makes up for in quality what it lacks in powertrain and drivetrain options.
#Family #Car #Spacious #ThirdRow #America