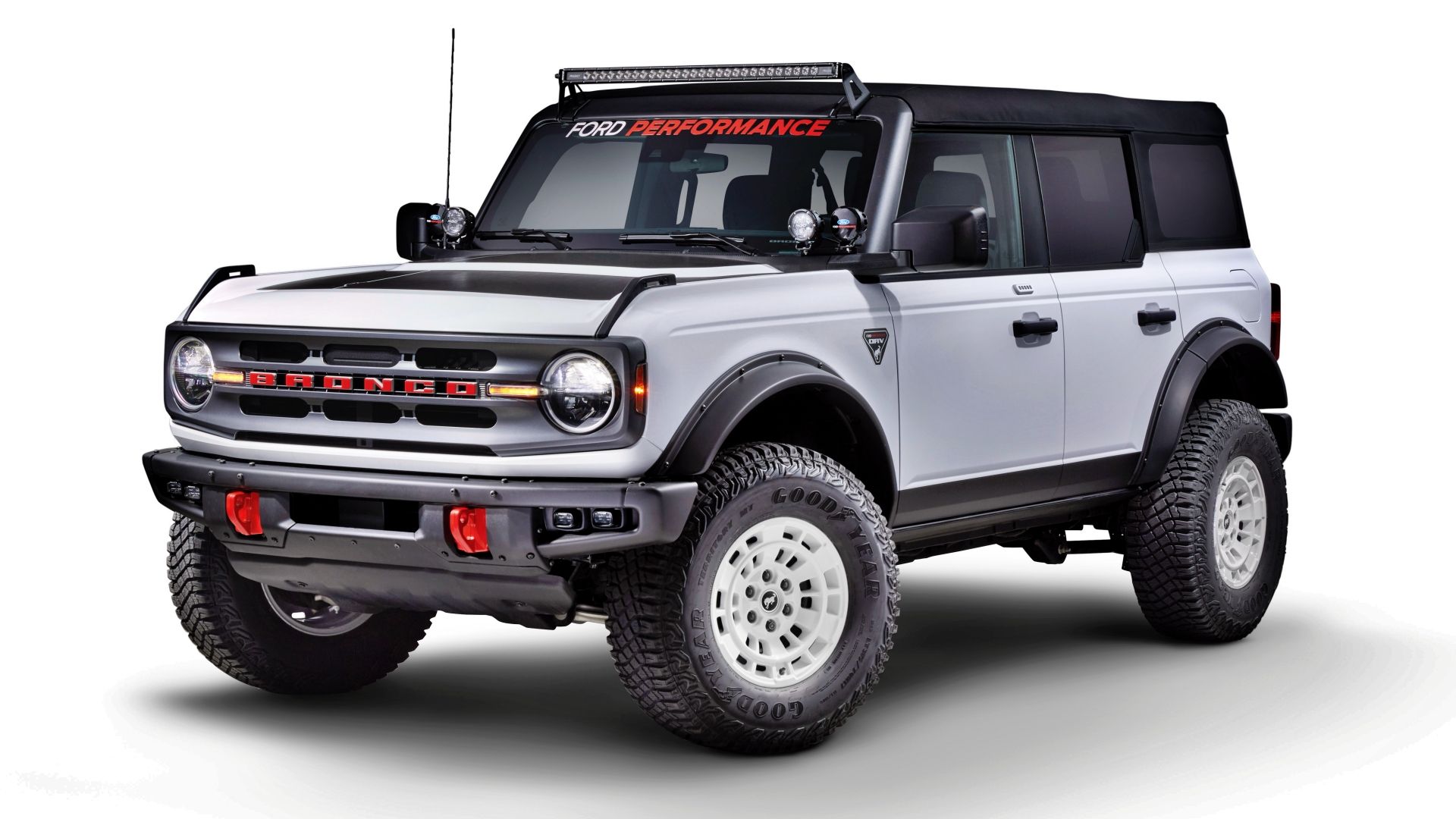 Summary
Ford Performance Parts introduces custom concept packages for purchase, allowing customers to personalize their vehicles with the latest design trends and aftermarket accessories.
Off-road enthusiasts, street performance aficionados, design-centric individuals, and those seeking standout vehicle graphics can find packages tailored to their preferences.
The Ford Mustang FP800S concept package for the 2024 Mustang GT coupe offers a 3.0-liter Whipple supercharger kit, delivering a staggering 800 horsepower and additional customization options.
The SEMA Show 2023 has kicked off, and Ford Performance Parts is in the spotlight with its array of modified trucks and SUVs. Unlike typical show models, these vehicles come with packages available for purchase, either online or at your closest Ford dealerships. Starting in 2024, Ford customers can buy these custom concept packages, transforming their vehicles to mirror their individuality and passion. Mark Wilson, Ford North America Vehicle Personalization manager, highlighted the company's focus on personalization. He stated:
Ford customers love to personalize the performance and appearance of their vehicles, especially the Mustang, Bronco, and Ranger. The Ford Performance parts packages we're debuting, combine the latest design trends with aftermarket accessories engineered to work with these vehicles out of the box.
Incorporating customer feedback, Ford ensures easy accessibility to these packages through their website or dealership counters. Detailed pricing will be unveiled closer to the sale dates, and installation can be entrusted to Ford dealers or ASE-certified shops. The offerings span across four distinct categories,
Catering to off-road enthusiasts
Street performance aficionados
Design-centric individuals
Those seeking standout vehicle graphics.
Related: How Ford Pushed The 2024 Mustang To An All-New Level
Ford Performance's Off-Road Enhancements For 2024
Ford Performance is set to redefine off-roading with its Off-Road Vehicle (ORV) family, offering turn-key solutions for Ford trucks and SUVs. These packages are meticulously designed to elevate the off-road capabilities of Ford vehicles.
Ranger Ford Performance Off-Road Concept Package
Targets overlanding enthusiasts.
Available for 2024 Ranger XLT and Lariat models with four-wheel drive.
Features the ARB overland suspension kit.
ARB-designed front and rear bumpers with enhanced recovery points.
Onboard air compressor, SOLIS lights, and a 47-quart refrigerator/freezer.
Bronco Ford Performance ORV Concept Package
Suitable for Bronco Base, Big Bend, Black Diamond, and Outer Banks models with the 2.3-liter EcoBoost engine.
A 2.0-inch lift is provided by the Bilstein suspension.
Equipped with 17-inch white wheels and 35-inch tires.
Unique software calibration for the 2.3-liter engine.
Optional add-ons: high-clearance Borla cat-back exhaust, ARB jack and mount, and an underhood compressor.
Ford Accessory Personalization Package For Bronco
Retro-inspired graphics, tubular doors, open-air Bimini roof, and painted fender flares with a matching grille.
Features a 2.0-inch lift suspension.
Auxiliary lights and a roof rack with a surfboard attachment.
In addition to these, Ford has announced custom vinyl wraps available in early 2024 for F-150, Mustang, Bronco, and Explorer vehicles. These wraps, available in 60 colors and three finishes (gloss, satin, and matte), are designed to not interfere with vehicle sensors and driver assist systems. The program, initially available in select states, will soon expand nationwide.
Related: 10 Things Few People Know About Ford Performance
Ford Mustang FP800S: A New Era Of Street Performance
Beyond that, a notable mention for SEMA 2023, is the 2024 Ford Mustang GT. This seventh-generation icon seamlessly merges its storied legacy with modern aesthetics. Ford is taking street performance to new heights with the introduction of the Mustang FP800S concept package. This new offering, a successor to the F-150 FP700 Package, is tailored specifically for the 2024 Mustang GT coupe. At its core is the 3.0-liter, sixth-generation Whipple Supercharger kit, which takes the Mustang to a staggering 800 horsepower.
To handle this surge in power, the FP800S is reinforced with a Ford Performance half-shaft upgrade and a street lowering kit. Additional customization options include a Borla Extreme cat-back exhaust, characterized by its quad 5.0-inch tips, and state-of-the-art carbon-fiber aero elements.
Mustang FP800S Concept Package Key Features
| | |
| --- | --- |
| Feature | Specification |
| Supercharger Kit | 3.0-liter, sixth-generation Whipple |
| Horsepower | At least 800 hp |
| Performance Upgrades | Half-shaft upgrade, street-lowering kit |
| Exhaust System | Borla Extreme cat-back with quad 5.0-inch tips |
| Aero Elements | Carbon-fiber components |
| Warranty | 3-year, 36,000-mile |
| Compliance | CARB-compliant (with certified installation) |
| Additional Features | Heat exchanger, high-flow intercooler pump, new fuel injectors, 92-mm throttle body, 120-mm dual air intake system |
(Specifications Sourced From Ford Performance)
This supercharger kit is exclusive to the 2024 Mustang GT. However, Ford hints at the future release of a Dark Horse-specific variant. For peace of mind, the kit comes with a three-year, 36,000-mile warranty and meets CARB compliance when professionally installed. The exact pricing remains undisclosed, but with such promising features, it's bound to pique the interest of Mustang enthusiasts worldwide.
#Heres #Ford #Performance #Brought #SEMA