The Rivian R1T has redefined the concept of an electric pickup truck, ushering in a new era of innovation in the automotive world. This electric marvel boasts an avant-garde design, outstanding performance, and cutting-edge technology, establishing fresh benchmarks for what an electric vehicle can achieve. Blending rugged and sleek aesthetics, it captures attention while optimizing aerodynamics for enhanced efficiency.
Diverse motor configurations empower the R1T, delivering a thrilling 0-60 mph acceleration as swift as 3.0 seconds, with horsepower ranging from 533 to 835 horses. It caters not only to speed enthusiasts but also to off-road aficionados with its exceptional off-road capabilities. Beyond its remarkable performance, the Rivian R1T is a treasure trove of cutting-edge technology and features. Its opulent cabin offers a tech-rich experience, featuring advanced infotainment systems, a generous touchscreen display, and a plethora of connectivity options.
In essence, the Rivian R1T is an all-electric pickup truck that excels in every aspect. Here's what makes the Rivian R1T a true gamechanger in the world of electric trucks.
Related: Rivian R1T vs Rivian R1S: Which One Should You Buy
In order to give you the most up-to-date and accurate information possible, the data used to compile this article was sourced from Rivian, and other authoritative sources, including Hagerty, Electrek, and TopGear.
A Design That Blends Ruggedness And Modernity
The Rivian R1T is a sight to behold. Its design is a perfect marriage of rugged and sleek, blending the aesthetics of a traditional pickup truck with modern, futuristic elements. The first thing that catches your eye is its wide and aggressive unique grille, featuring a full-width LED light bar flanked by stadium-design LED headlights. This design not only adds to its commanding presence but also enhances visibility with a touch of sophistication.
The body of the R1T is constructed using lightweight materials like aluminum and carbon fiber, reducing its weight and improving efficiency. The sleek door handles sit flush with the bodywork, reducing aerodynamic drag. The result is a truck that not only commands attention but also minimizes drag, contributing to its impressive driving range.
Rivian R1T Off-Road Specs
| | |
| --- | --- |
| Ground Clearance | 14.9 inches |
| Approach Angle | 35.5 degrees |
| Departure Angle | 30 degrees |
| Breakover Angle | 26.4 degrees |
(Specs sourced from Rivian)
Cutting-Edge Technology And Safety
The interior of the Rivian R1T is not only luxurious but also tech-rich. It offers an advanced infotainment system with a large touchscreen display and a range of connectivity options. The Driver+ Assist Suite combines sensors, cameras, and intelligent software to offer features like adaptive cruise control, lane-centering, automatic emergency braking, and blind-spot monitoring.
These features enhance safety and provide a more comfortable driving experience. The R1T also includes over-the-air updates, ensuring that the Driver+ suite stays up-to-date with the latest safety technology. It even comes with a built-in air compressor, Bluetooth-enabled portable speaker, and a detachable 1000W flashlight for added convenience.
Related: Why The Rivian R1T Is The Best Electric Pickup Truck Currently
The R1T Offers Versatile Storage Options
The Rivian R1T is an electric pickup truck that offers exceptional performance and advanced technology. It is also a highly versatile vehicle with a variety of storage options to suit different needs. The Rivian R1T has a spacious front trunk with 11.1 cubic feet of storage capacity. This is enough space to store two large suitcases or a cooler and other essentials for a weekend trip. The front trunk is also weather-sealed, so you can be sure your belongings will stay dry and secure.
Unique Storage Spaces
The Rivian R1T also has a unique gear tunnel that runs between the cabin and the truck bed. This tunnel provides an additional 11.7 cubic feet of storage space for longer items like skis, fishing rods, and camping equipment. The gear tunnel is also equipped with tie-down points to keep your gear from shifting while driving.
The Rivian R1T has a four to six-foot truck bed with approximately 22.6 cubic feet of cargo space. The truck bed comes standard with tie-down points and adjustable crossbars to secure your load. The R1T's truck bed is also bedliner-protected, so you can transport dirty or messy items without damaging the paint.
In addition to the front trunk, gear tunnel, and truck bed, the Rivian R1T also has a number of other storage compartments throughout the vehicle. These include:
Rear storage bins
Under-seat compartments
Center console
These compartments provide additional space to store smaller items like tools, snacks, and personal belongings.
Related: 10 Reasons Why The Rivian R1S Is Special
The Rivian R1T's Performance Rivals ICE Supercars
The Rivian R1T is not just a pretty face; it's a beast under the hood. It features different motor configurations that provide between 533- and 835 horsepower, delivering a jaw-dropping 0-60 mph acceleration as fast as 3.0 seconds. In its quad-motor trim, the R1T accelerates faster than the Lamborghini Huracan Evo, a renowned supercar with a 5.2-liter V-10 engine.
The various motor configurations ensure that there's an option for everyone, from those who appreciate quick acceleration to off-road enthusiasts looking for exceptional traction on challenging terrain. The R1T's torque vectoring capabilities and electric all-wheel drive system provide precise control and traction on various surfaces, including steep slopes and slippery conditions.
Rivian R1T Performance Specs
| | | | |
| --- | --- | --- | --- |
| | Horsepower | Torque | 0-60 mph |
| Dual-Motor | 533 hp | 610 pound-feet | 4.5 secs |
| Performance Dual-Motor | 655 hp | 829 pound-feet | 3.5 secs |
| Quad-Motor | 835 hp | 908 pound-feet | 3.0 secs |
(Specs sourced from Rivian)
Driving Dynamics And Suspension
The Rivian R1T's unique skateboard architecture places the battery pack low and central in the chassis, resulting in balanced weight distribution and improved stability. The air suspension system adjusts the ride height based on terrain and driving conditions, while torque vectoring ensures precise control and torque distribution. With eight drive modes, the R1T can handle various terrains with ease, from off-road adventures to towing heavy loads.
Advanced Battery Technology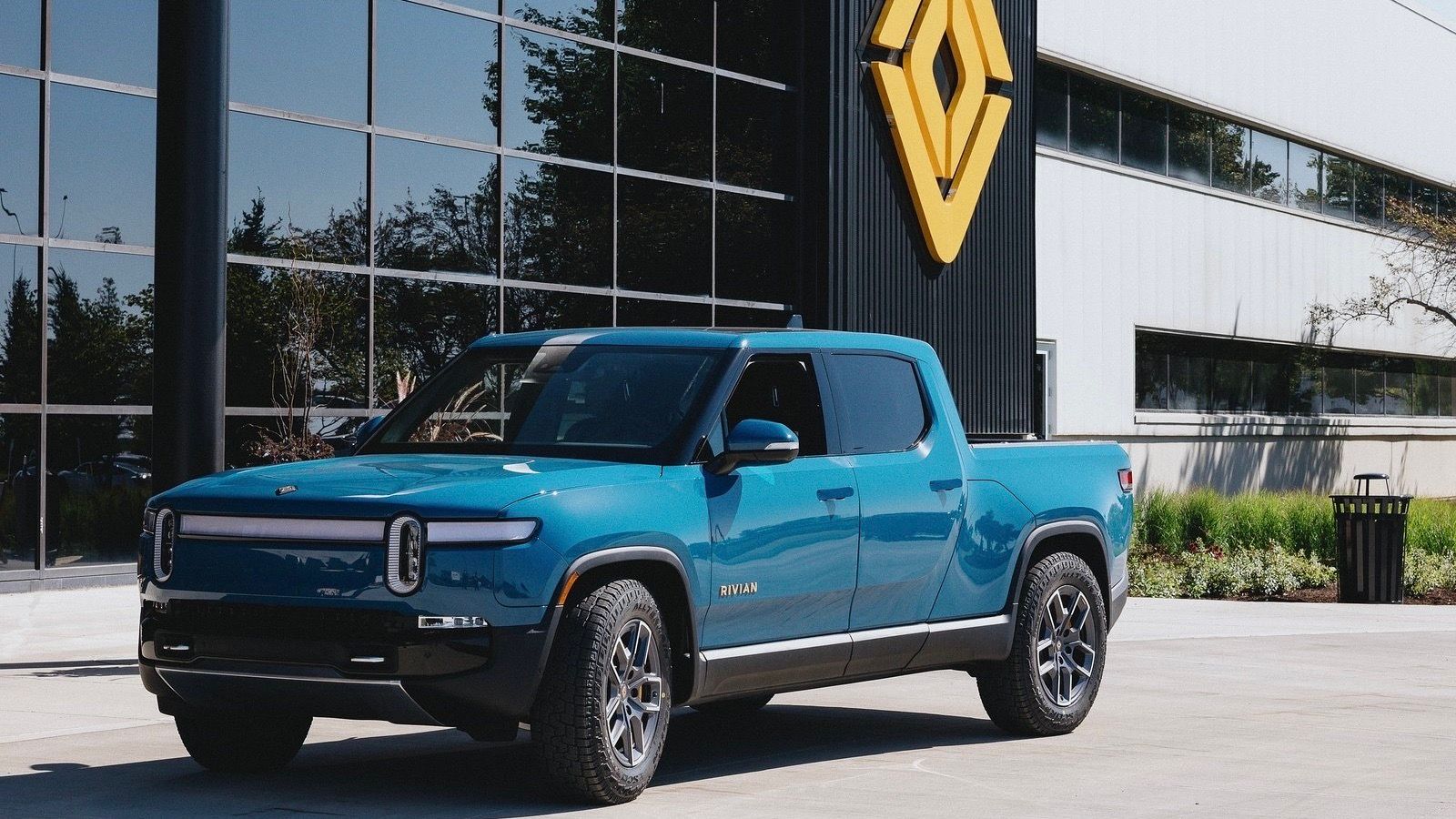 Rivian's advanced battery technology is at the heart of the R1T's exceptional performance. It combines high energy density with fast charging capabilities, resulting in three excellent battery options, each offering ranges of over 250 miles. The R1T offers standard, large, and Max battery packs, with the Max pack boasting an impressive 410-mile range.
These battery options cater to different needs, whether it's daily commutes, long road trips, or off-grid adventures. The R1T's impressive energy efficiency ratings make it a top contender in the EV market, with an EPA-estimated 82 MPGe in the city, 74 MPGe on the highway, and 76 MPGe combined.
Impressive Payload And Towing Capacity
The Rivian R1T has a payload capacity of 1,764 pounds and a towing capacity of 11,000 pounds. This makes it a versatile workhorse that can be used to haul a variety of loads, including boats, trailers, and other heavy equipment.
Overall, the Rivian R1T offers a variety of versatile storage options to suit different needs. Whether you're planning a weekend camping trip or need to haul a heavy load for work, the R1T has you covered.
Related: Every New Electric Truck You Probably Haven't Heard Of
The Rivian Offers Various Options For Your Taste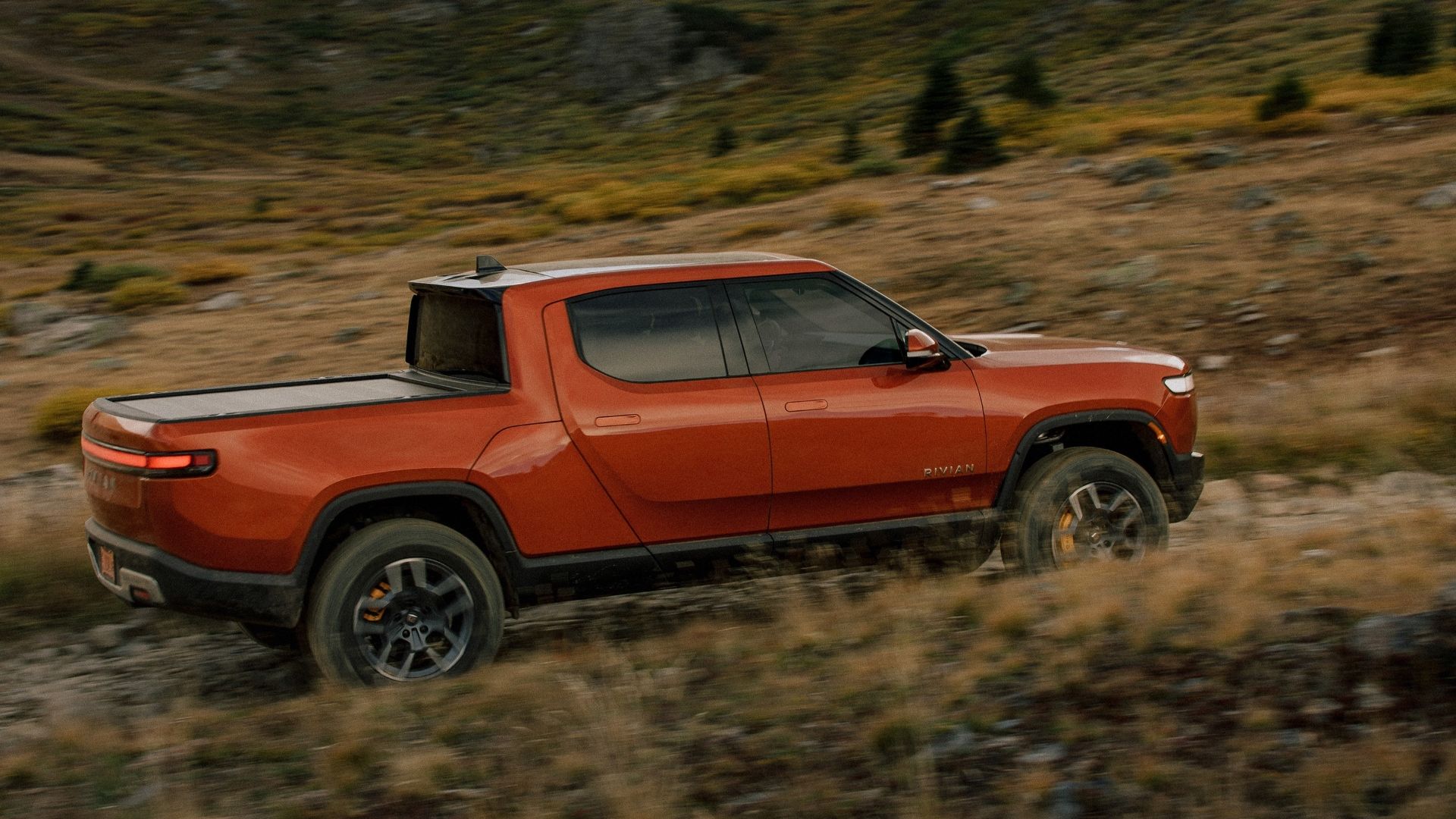 The Rivian R1T offers multiple trim levels and battery pack options to meet the needs of a wide range of buyers. The base Dual-Motor Adventure trim starts at $73,000, while the top-of-the-line Quad-Motor Adventure trim starts at $87,000.
Dual-Motor Adventure: The base trim level features a dual-motor all-wheel drive system with 533 horsepower and 610 pound-feet of torque. It also comes standard with a 270-mile battery pack, but buyers can upgrade to the larger 352-mile or 410-mile battery packs for an additional cost.
Performance Dual-Motor Adventure: This trim level adds more power and performance to the base model, with 665 horsepower and 829 pound-feet of torque. It also comes standard with the larger 352-mile battery pack.
Quad-Motor Adventure: This is the most powerful and capable trim level of the R1T, with four electric motors that produce a combined 835 horsepower and 908 pound-feet of torque. It also comes standard with the largest 410-mile battery pack.
The Rivian R1T offers three battery pack options:
Standard: The standard battery pack has a capacity of 135 kWh and offers a range of 270 miles.
Large: The large battery pack has a capacity of 180 kWh and offers a range of 352 miles.
Max: The Max battery pack has a capacity of 210 kWh and offers a range of 410 miles.
Variety of optional features, including:
20-inch or 22-inch wheels
Black Mountain Package adds black exterior accents, black interior trim, and a black tonneau cover)
Camp Kitchen (includes a stove, sink, and food preparation area)
Gear Guard (security system that monitors the truck's surroundings and provides real-time updates through the vehicle's display)
Off-road tires
Premium sound system
Tow hitch
Rivian Has A Trim Across Price Brackets
Rivian R1T Pricing
| | | | |
| --- | --- | --- | --- |
| | Standard Battery Pack | Large Battery Pack | Max Battery Pack |
| Dual-Motor Adventure Package | $73,000 | $79,000 | $89,000 |
| Performance Dual-Motor Adventure Package | N/A | $84,000 | $94,000 |
| Quad-Motor Adventure Package | N/A | $87,000 | N/A |
(Prices sourced from Rivian)
The Rivian R1T is competitively priced, especially when compared to other electric trucks on the market. It also offers a wide range of features and options to choose from, so buyers can customize their truck to meet their specific needs.
Overall, the Rivian R1T is a great value for the money. It offers a sleek design, exceptional performance, advanced technology, and a variety of features and options to choose from. It is also competitively priced, making it an attractive option for those considering electric trucks.
Related: 12 Electric Pickup Trucks You Need To Know About
In conclusion, the Rivian R1T is a gamechanger in the electric truck market. Its innovative design, exceptional performance, advanced technology, and practicality make it a versatile and attractive option for a wide range of drivers.
Whether you're an off-road enthusiast, a tech-savvy individual, or someone looking for a high-performance electric vehicle, the R1T delivers on all fronts. With Rivian's commitment to pushing the boundaries of electric vehicle technology, the R1T is a sign of exciting things to come in the world of electric trucks.
#Rivian #R1T #Gamechanger